8th August 2016 Content supplied by: TCS Biosciences
CRE Control Strains for the Detection of Carbapenem Resistant Enterobacteriaceae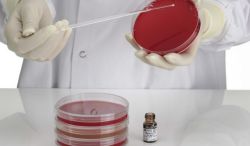 Carbapenem resistant Enterobacteriaceae are a significant and growing problem worldwide, with few treatment options currently available or likely to emerge in the near future. The identification of carriers, and subsequent infection control measures, are critical in limiting the increased mortality and length of hospital stay due to these bacteria.
Various methods for detection of these bacteria and confirmation of the resistance mechanisms are available, and choice will depend on local CRE prevalence data and the availability of instrumentation. Whatever the methodology employed, EUCAST and PHE-recommended control organisms are now available to detect problems or to reassure users that they are obtaining reliable results in line with expectations.
The following control strains for the detection of Carbapenem Resistant Enterobacteriaceae are now available in our product range:
Class A KPC (Klebsiella pneumoniae carbapenemase) enzymes: MM58 / NCTC 13438 Klebsiella pneumoniae
Class B VIM (Verona Integron-encoded metallo-beta-lactamase) enzymes: MM55 / NCTC 13440 Klebsiella pneumoniae
Class B NDM (New Delhi metallo-beta-lactamase) enzymes: MM56 / NCTC 13443 Klebsiella pneumoniae
Class B IMP enzymes: MM57 / NCTC 13476 Escherichia coli
Class D OXA-48 enzyme: MM59 / NCTC 13442 Klebsiella pneumoniae
Negative control: MM33 / NCTC 10418 Escherichia coli
Please note : Any products described on this page are for Research Use Only and not intended for clinical diagnostic procedures unless otherwise stated.
Tags:
Date Published: 8th August 2016
Source article link: View
Related news