14th June 2011 Content supplied by: Sigma Aldrich
Chromogenic Media to Detect E. coli O104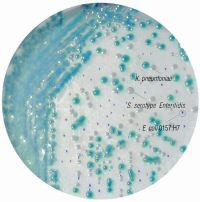 Our chromogenic media for E. coli O157 also works for E coli O104 (E. coli strain O104:H4 was the cause of the recent EHEC problem in Germany)!
Fluka 72557HiCrome™ EC O157:H7 Selective Agar Fluka 39894HiCrome™ EC O157:H7 Agar Fluka 80330HiCrome™ Enrichment Broth Base for EC O157:H7
Results can be expected in 18 to 24 hours.
Advantages of chromogenic media:
more reliable
faster results
time saving
easy to handle
save confirmation steps
low costs
Visit our web site and find out more about the Sigma-Aldrich chromogenic media range or visit Sigma-Aldrich's microbiology pages with many interesting topics on microbiology!
Date Published: 14th June 2011
Source article link: View