14th October 2020 Product update: rapidmicrobiology staff writer
CHROMagar™ Candida Plus, First Chromogenic Medium for C. auris
Candida auris was detected for the first time in Japan, by Dr Makimura team in 2009. Since then, it has been the cause of heavy invasive fungal infections and hospital outbreaks worldwide.
Also, many of the reported isolates showed a high-level of anti-fungal resistance, and resilience to contaminate hospital equipment.
In 2016, the CDC launched an alert on this bug because several hospitals in the US had reported outbreaks with a multi-resistant isolate: "Candida auris is an emerging fungus that presents a serious global health threat."1 
In 2020, the WHO added C. auris to the "priority pathogens list" of microorganisms under worldwide surveillance.2
Based on our best-seller CHROMagar™ Candida, the formulation has been modified to have Candida auris growing in a very specific morphology: light blue colonies with halo and blue viewed from the back of the plate, while keeping the colour differentiation of the other common Candida spp.: C. albicans in green-blue, C. tropicalis in metallic blue with a pink halo, C. krusei in pink and C. glabrata in mauve, etc.
Why choose CHROMagar™ Candida Plus?
Unique medium to differentiate C. auris from other Candida spp. - With 100 % specificity and sensitivity for C. auris strains, it is the perfect tool in case of outbreaks. 
High specificity - In addition, this new medium allows the differentiation of common Candida spp. with very high specificity3: C. albicans ~ 100 %, C. tropicalis ~ 100 %, C. krusei ~ 100 %
Easy identification - Identification by MALDI-TOF can be performed directly from a colony, no need for subculture.
Win an iPad with CHROMagar™ Candida Plus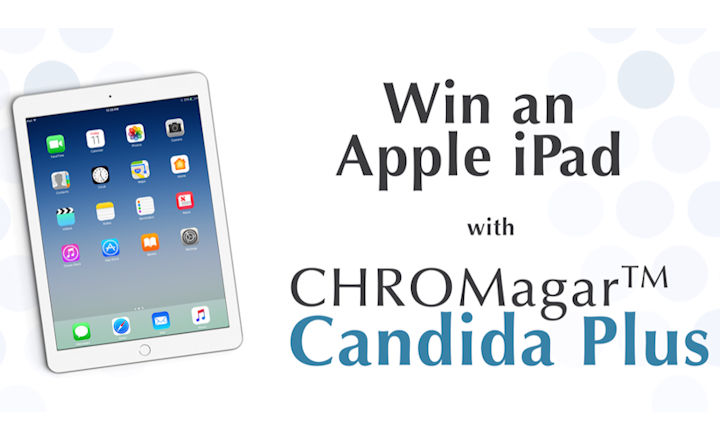 To celebrate the release of our brand-new product, CHROMagar™ Candida Plus, we are launching a contest: the first person to find a C. auris false-negative or false-positive on CHROMagar™ Candida Plus (in standard incubation conditions) will win an iPad!
The strain will have to be sent to us, then sequenced (by us) for the D1/D2 regions and ITS. The competition will close on March 22th 2021.
1. Global Emergence of Invasive Infections Caused by the Multidrug-Resistant Yeast Candida auris: https://www.cdc.gov/fungal/candida-auris/candida-auris-alert.html
2. First Meeting Of The WHO Antifungal Expert Group On Identifying Priority Fungal Pathogens: https://apps.who.int/iris/rest/bitstreams/1279936/retrieve(download)
3. 'Evaluation of a novel chromogenic medium for Candida spp. identification and comparison with CHROMagar™ Candida for the detection of Candida auris in surveillance samples' Juan V. Mulet et al. 2020. Journal of Diagnostic Microbiology and Infectious Disease.
Please note : Any products described on this page are for Research Use Only and not intended for clinical diagnostic procedures unless otherwise stated.
Tags:
Date Published: 14th October 2020
Source article link: View
Note: This content has been edited by a rapidmicrobiology staff writer for style and content.