12th April 2016 Content supplied by: Thermo Scientific
Choice of Validated Platforms for SureTect™ Food Pathogen Assays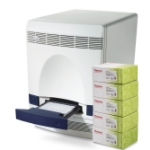 Microbiology testing laboratories now have a choice of real-time PCR instruments for detecting the four most common foodborne pathogens – Salmonella species, Listeria species, Listeria monocytogenes and E. coli O157:H7 – using fast, easy-to-use and accurate Thermo Scientific SureTect real-time PCR assays.
Thermo Fisher has received extended AOAC-RI Performance Tested Methods certification that enables its SureTect assays to be run on the Applied Biosystems 7500 Fast 96-well Real-Time PCR instrument. This is in addition to the option of running the assays on the Thermo Scientific SureTect PikoReal 24-well real-time PCR instrument for which the assays were originally validated.
With SureTect assay methods, molecular pathogen testing is easy, fast and accurate. Precise, validated results are available within 8-26 hours of sample receipt.
While the SureTect PikoReal instrument is a compact 24-well PCR platform with a small footprint that suits laboratories where space is limited, the 7500 Fast instrument enables microbiology laboratories to expand their in-house PCR capability beyond day-to-day pathogen testing with a versatile, 96-well system that is ideal for batch processing several hundred samples a day.
"We are delighted to bring more choice to our food microbiology customers," says David Panneton, vice president commercial operations, microbiology, Thermo Fisher Scientific. "The latest validation extensions demonstrate Thermo Fisher Scientific's commitment to better serve the food industry. We have taken the simple workflow of the SureTect assay methods and combined it with the 7500 Fast instrument to enable higher throughout and the flexibility to run a broader range of tests."
In addition to the SureTect assays, the 7500 Fast platform can run tests for other microbial and non-microbial targets including quality indicators, foodborne viruses, food species authenticity markers and a growing range of custom-developed assays.
Thermo Fisher developed the SureTect System to quickly and accurately detect microorganisms in a wide range of foods and associated samples, offering food producers and contract laboratories the following:
Quick, actionable results, with an optimized single enrichment step and automatic result interpretation.
Efficient operations, with simple lysis and uniform PCR protocols that allow for the detection of multiple targets in the same run.
Convenience, with pre-filled lysis tubes and tableted PCR reagents to minimize the number of pipetting steps and hands-on time.
Throughput flexibility, with the option to run tests on either of the 24-well SureTect PikoReal or 96-well 7500 Fast instruments.
Test menu flexibility to run assays for additional test markers on the 7500 Fast instrument platform.
Find out more by visiting www.thermoscientific.com/suretect.
Tags:
Date Published: 12th April 2016
Source article link: View
Related news