24th April 2017 Content supplied by: Charles River Microbial Solutions
Charles River Partners with Microbiologics® to Offer Custom QC Isolates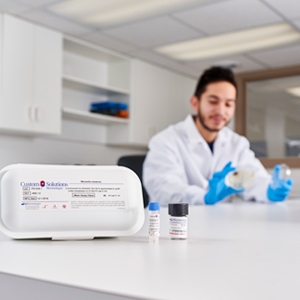 Charles River Microbial Solutions have announced that it has partnered with Microbiologics®, the leading provider of ready-to-use QC microorganisms, for quality control testing in the clinical, pharmaceutical, food, water and educational industries.
Through this distribution agreement, Charles River customers can use Microbiologics's capabilities to facilitate the preservation, manufacturing and secure storage of their isolates into a customized quality control reagent kit. Customers can then demonstrate that bacterial or fungal species found in their production environment that represent risk are detectable when used in growth promotion of media, sterility testing, preservative effectiveness and validation studies.
You can easily select and analyze microorganisms considered objectionable to the product or patient and convert them into a QC reagent. By using the Accugenix® Customer Web Portal features such as "track and trend," you can choose the organisms of concern for your facility to become a controlled reagent for compendial testing.
The Accugenix brand is the industry leader in accurate and reliable microbial identification services with innovative software solutions to monitor proactively the risk of contamination. The inclusion of Custom Solutions by Microbiologics provides yet another solution that is designed for our customers to meet the scrutiny of auditors and regulatory bodies. The ordering process is easy, and the kits are shipped directly to your facility. In fact, reordering your custom kit based upon your specific forecast demand is just as simple. Partner with us to reduce cost, minimize risk and increase confidence in your environmental monitoring program.
Tags:
Date Published: 24th April 2017
Source article link: View
Related news