6th March 2018 Content supplied by: BioVision, Inc.
BioVision's New Microbiology Staining Kits!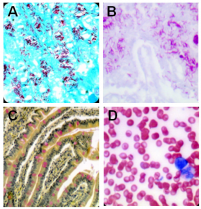 BioVision has introduced numerous staining kits and reagents for pathology including the bacterial staining kits namely
Acid-Fast bacteria stain kit
Fite's stain kit
Gram stain kit
Mucicarmine staining kit for staining mucins
Wright-Giemsa stain kit for differential staining of blood smears
and many more staining kits and reagents.
These special staining kits are intended for use in the histological visualization of organisms, cell types, structures in tissue sections, cell smears etc. These kits play a critical role is tissue or cell-based diagnosis or research. Additionally, BioVision offers many routine counterstains, kits and reagents including hematoxylin, eosin, modified silver stain etc.
Photo shows staining using A. Acid Fast Bacteria stain B. Fite's stain kit. C. Mucicarmi stain kit
Application:
Histological Applications
For in vitro Diagnostic Use only
Key Features:
Rapid procedure
Many staining options to choose from
Can be used on fixed paraffin embedded, formalin fixed, frozen tissue sections or cell smears
For complete list of products visit: www.biovision.com
Date Published: 6th March 2018
Source article link: View
Related news