11th July 2016 Content supplied by: Promicol
ATP Bioluminescence Rapid Testing of Fruit Juice Products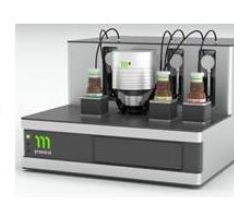 The Promicol system provides a rapid and reliable method for testing microbial ATP content in all kinds of Fruit Juices as well as smoothies and fruit concentrates. It is currently used by many international companies to routinely release finished products. The 3 days pre-incubation time at 30°C provides companies with a saving of at least three days over the current traditional test methods for release of their products.
The Promicol rapid microbial ATP test for Fruit Juice is the most reliable test currently on the market. The particularities of a microbial detection within fruit juice are tough because of the acidic environment. The Promicol reagents are specially developed to cope with these extreme conditions and make the determination of microbial contamination possible.
The test procedures are simple, do not require any sample preparation and are very easy to use. The Promicol system can process and automatically analyze the data from approximately 100 samples within 45 minutes, offering significant reductions in labor costs.
The Promicol system and microbial ATP test kit for Fruit Juice products can test a wide range of Fruit Juices and Fruit based products. Some examples are listed below:
Orange juice
Apple Juice
Banana Juice
Tomato Juice

Multivitamin Juice

Peach Juice

Mango Juice

Apricot Juice

Smoothies
Fruit purees
Fruit concentrates
Jam
Before testing the pre-incubated packages need to be shaken properly before sampling to ensure a homogenous sample. 50 μl aliquots of each product are placed in a microplate well and the Promilite M4 instrument performs the assay automatically by using the implemented 'Fruit Juice' protocol.

The reagents used ensure that even high levels of non-microbial ATP are removed. This enables the system to measure all kinds of fruit juice including those with high pulp content. The used microbial extractant assures that all kinds of microorganisms including yeasts, moulds as well as acidophilic bacteria will be opened to release their ATP.
This will be turned into light by the firefly enzyme which will be measured by the Promilite M4 instrument and expressed in Relative Light Units (RLU). The software automatically performs the assay and classifies the measured values as pass, re-test or fail and therefore enables an easy interpretation for the user.
Promicol aims to develop a long term relationship with its customers, built on trust, innovation and expertise. It is our goal to provide a service that is in touch with the needs of your quality management and to your demands from rapidly changing markets, making ATP work for you, together with you. Click here to visit the Promicol website.
Tags:
Date Published: 11th July 2016
Source article link: View
Related news