5th June 2019 Content supplied by: Astell
Astell's Duaclave Twin Chamber Range Increases Autoclave Capacity Within Same Footprint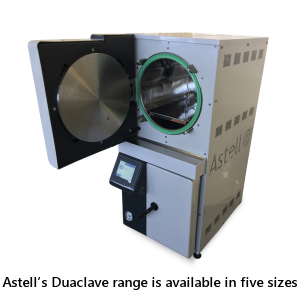 If your laboratory is facing an increase in demand for sterilised items but has little or no space to accommodate a larger autoclave, Astell Scientific can provide a solution with its innovative 'Duaclave' twin chamber range.
A 'Duaclave' is made up of two autoclaves stacked one above the other, built in to one frame, to provide a secure and stable unit with twice the capacity of an autoclave occupying the same floor space. Each of the circular chambers can be operated independently, controlled by its own colour touchscreen, meaning it becomes possible to run different sterilization cycles simultaneously – reducing turnaround time and improving operational capacity. For example, it's possible to sterilise a glassware load in one chamber whilst preparing media in the second.
Duaclaves are available in a choice of five sizes, and are based on Astell's 'heaters in chamber' front-loading autoclave range, providing (combined) chamber volumes of 66 litres up to a maximum of 306 litres in capacity. Further customisation and options are available upon request.
For more information on the Duaclave range please contact Astell Scientific or your distributor.
Please note : Any products described on this page are for Research Use Only and not intended for clinical diagnostic procedures unless otherwise stated.
Tags:
Date Published: 5th June 2019
Source article link: View