11th April 2017 Content supplied by: Liofilchem s.r.l.
Antimicrobial Susceptibility and Resistance Testing Devices by Liofilchem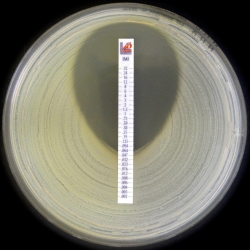 Visit the Liofilchem Booth 47 in Vienna, at the 27th ECCMID.
Liofilchem® has produced diagnostics for microbiology since 1983, including antibiotic susceptibility test (AST) devices for a wide variety of formats and methods. At this edition of ECCMID we will show:
MIC Test Strip (international patent) Liofilchem® MTS™ (MIC Test Strip) is the largest commercially available range of antibiotic gradient strips for the quantitative determination of the Minimum Inhibitory Concentration of an antimicrobial agent over a microbial population and for resistance mechanisms detection. The MTS™ range includes the newly developed Ceftolozane-tazobactam, Ceftazidime-avibactam, Tedizolid, Dalbavancin, Solithromycin and more than 120 other agents  available in over 80 Countries, in pack formats of 100, 30 and 10 strips, comprising CE marked and FDA cleared items. Liofilchem supports pharmaceutical industries around the world in the development of MTS™ with their new antimicrobial agents.
MTS™ Synergy Application System (International Patent) MTS™ SAS (Synergy Application System) allows for an easy, quick and standardized in-vitro analysis of the combination of antimicrobial agents. MTS™ SAS combines the reliability of MIC Test Strip with patented tools to facilitate and standardize a critical assay such as the in-vitro combination of antibiotics.
Antimicrobial resistance is a major challenge for clinicians and clinical microbiologists, the use of synergy testing is nowadays increasingly requested.
MTS™ SAS procedure is significantly faster than any other methods in antibiotic synergy tests (i.e. time-kill, checkerboard), does not require any additional trainings to those who are skilled in the usage of MIC Test Strip, reduces or eliminates the risks of procedure errors when compared to laborious and complicated traditional methods.
Antibiotic discs Liofilchem produces over 150 antibiotic discs for AST and resistance mechanisms detection (including KPC, OXA-48, MBL, ESBL, AmpC). Liofilchem supports pharmaceutical industries around the world in the development of discs with their new antimicrobial agents.
Broth microdilution panels We are pleased to announce our new SensiTest Colistin, a compact panel containing the antibiotic in 7 two-fold dilutions (0.25-16 μg/mL). The panel allows for four samples to be tested with the broth microdilution method for the antimicrobial susceptibility testing of colistin (polymyxin E) as recommended by international standards (i.e. EUCAST, CLSI, ISO).
SensiTest panels are available in customized formats.
Chromogenic media Liofilchem® produces the Chromatic™culture media range, available in ready to use and dehydrated formats, for detecting resistance mechanisms such as ESBL, AmpC, CRE, OXA-48, VRE, MRSA and for microbial identification, in addition to the Chromatic™ MH for the direct testing and simultaneous ID-AST.
We look forward to meeting with you!
Please note : Any products described on this page are for Research Use Only and not intended for clinical diagnostic procedures unless otherwise stated.
Tags:
Date Published: 11th April 2017
Source article link: View
Related news