30th June 2017 Content supplied by: ProGnosis Biotech Ltd
Aflatoxin M1 in Dairy Products – Lateral Flow, ELISA or Chromatography?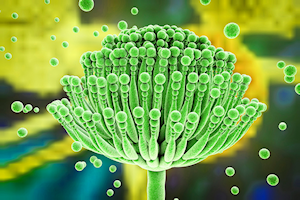 by Georgios Papageorgiou, Operations Manager, ProGnosis Biotech Ltd.
One of the most potent carcinogenic substances known to man is at the same time one of the most disregarded. Officially recognized as carcinogenic, Aflatoxin M1 is currently one of the hottest topics for dairy laboratories.
India is a country which is characterized by its monsoons and droughts, often at the same time. This combination has an impact on the fungus Aspergillus Flavus, which when stressed, excretes Aflatoxins B1, B2, G1 and G2. The most commonly found Aflatoxin in nature is B1, which comprises, on average, 85-95% of the total Aflatoxins found.
Corn, one of the EU's main crops, is extremely susceptible to Aflatoxin B1 and also historically India has some of the most Aflatoxin contaminated corn crops worldwide. Consequently, cows, goats and sheep digesting contaminated feed, metabolize Aflatoxin B1 into Aflatoxin M1 and excrete it into their milk.
Current legislation suggests a limit of 50 ppt in milk and 25 ppt in milk formulas intended for infants. There are different policies and frequencies of checking for Aflatoxin M1 throughout the world. The most commonly enforced especially in Southern Europe, is a truck-by-truck testing, since legislation does permit admission of contaminated milk.
In these cases, rapid tests are used for fast, easy per truck screening and ELISA as a confirmatory method. If there are any questionable samples, then they can be further investigated by HPLC or LC/MS-MS. This system of Quality Control is based on the notion of milk being accepted or discarded.
In other cases, samples are gathered and after reaching at least 10 samples, they are analyzed using the ELISA method. In this case, you have already accepted any contaminated milk and plan to dilute it in your production line with other non-contaminated milk. If indeterminate values are found, then, chromatography is in the game again.
These 3 methods of testing, Lateral-flow Sticks (Rapid Tests), ELISA and chromatography each possess a number of advantages and disadvantages. ELISA is by far the optimum method for a big number of samples, in terms of cost, accuracy and time. Each ELISA plate consists of either 48 or 96 wells, therefore you can run up to this number of samples concurrently, saving time and money, while not jeopardizing accuracy.
Comparison Table of Techniques for Detection of Aflatoxin M1 in Dairy Products
| | | | | | | |
| --- | --- | --- | --- | --- | --- | --- |
| Technique |  Product |  Sensitivity |  Time Consuming |  Specificity |  Lab Requirements |  Cost per Test |
|  Lateral Flow Sticks |  Symetric M1 |  2 ppt |  Fast (10 min.) |  No cross reactivity with M2 |  'In Field' |  € |
| | | | | | | |
|  ELISA |  Bio-Shield Aflatoxin M1 Baby Food (M1 BF) ELISA kit |  1.6 ppt |  75 min. |  No cross reactivity with M2 |  Basic Laboratory |  €€ |
| | | | | | | |
| |  Bio-Shield Aflatoxin M1 Extra-Sensitive (M1 ES) ELISA kit |  2 ppt |  75 min. |  No cross reactivity with M2 |  Basic Laboratory |  €€ |
| | | | | | | |
|  Chromatography |  HPLC, LC/MS-MS |  5 ppt |  Yes |  No cross reactivity with M2 |  High Tech Laboratory |  €€€€ |
ProGnosis Biotech is a company based in Larissa, Greece which designs, manufactures and ultimately produces Bio-Shield ELISA kits series and Lateral-flow Sticks (Rapid Tests) in order to trace Mycotoxins in milk, food and feed, and milk adulteration of milk from different species.
ProGnosis Biotech currently offers the most sensitive, accurate and robust ELISA kits, with no matrix interference in cheese, butter, cream or yogurt drinks, for users who want to trace Aflatoxin M1 at the limit of 50 ppt: the Bio-Shield Aflatoxin M1 Baby Food (M1 BF) ELISA kit (Product Code: B3096) and the Bio-Shield Aflatoxin M1 Extra-Sensitive (M1 ES) ELISA kit (Product Code: B2096).
Results obtained with a CV <6%, Limits of Detection and Quantification at 2 and 5 ppt respectively for raw, homogenized milk (in Bio-Shield Aflatoxin M1 ES) and 1.6 and 5 ppt in Bio-Shield Aflatoxin M1 BF.  While recovery rates for the 2 kits are at 99.4% and 92% respectively, which are considered to be extremely accurate. Excellent results have been attained during participation in inter-laboratory Proficiency Tests such as Fapas (UK), AIA (Italy), BIPEA (France).
During the past 2 years it has been demonstrated that ProGnosis Biotech has closed the gap between ELISA and chromatography in terms of accuracy, while it is much more cost-effective, less time-consuming and gives you the capacity for high throughput of samples concurrently.
For more details on the ProGnosis Biotech range for detection of Alflatoxin M1 in dairy products, click on the 'Request More Information' button below or visit www.prognosis-biotech.com.
Date Published: 30th June 2017
Source article link: View