2nd September 2019 Content supplied by: 3M Food Safety
A Comprehensive Guide to Environmental Monitoring is Available
The tools and strategies in this resource can help you reduce contamination risk
and improve food safety and quality.
Be proactive with food safety through environmental monitoring.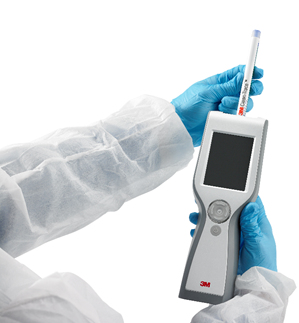 With the right environmental monitoring program, food safety moves toward prevention rather than reaction. Focusing on preventing contamination in the processing environment is a key strategy to protect consumers and avoid costly recalls in the tight-margin industry of food production.
Randy Worobo is a professor of Food Microbiology at Cornell University and contributor to the "Environmental Monitoring Handbook for the Food and Beverage Industries." He advises food processing companies to focus on preventative programs.
"A lot of companies have reactive programs," he says. "They wait until a problem arises and then they try to fix it. Environmental monitoring is important because it is a proactive way to identify potential spoilage or safety issues in their facility."
How the Food Safety Modernization Act Plays a Role
The Food Safety Modernization Act – known as FSMA – as well as other regulations and standards around the world are emphasizing the importance of environmental monitoring in both process controls and preventive controls like sanitation. FSMA is the most sweeping change to United States food safety regulation in more than 70 years and requires environmental monitoring for many manufacturers. If contamination of an environmental pathogen is a hazard requiring a preventive control, environmental monitoring is required to verify implementation and effectiveness of the preventive control.
The Environmental Monitoring Handbook was created to provide a resource for the food industry and academics, bringing a wealth of industry knowledge together. Experts in the field have gathered to provide knowledge in this key area. Martin Wiedmann, Gellert Family Professor in Food Safety at Cornell University and another contributor to the handbook, says there's a great need for this industry resource.
"The knowledge is out there, but not consistently in one single piece," he says. "Some people in the industry need it for training, some need it to refine and check on their systems, and it also provides a resource for academics."
The Environmental Monitoring Handbook: A Clear and Comprehensive Framework
Food recalls can be extremely costly – not only impacting human health, but also a company's brand reputation and profitability. Environmental monitoring is a critical strategy to help prevent recalls and can also enable improvements in overall efficiency by streamlining production processes and facilitating longer run-times for equipment.
This handbook includes in-depth guidance on important topics for food processing and handling facilities. Areas of interest include:
The importance of environmental sampling in food safety and quality programs.
 
The purpose of ATP- and protein-based hygiene monitoring. These quick and simple tests can provide a measurable and objective assessment of the cleanliness of equipment and surfaces prior to food processing.
Environmental monitoring for indicator organisms. Indicator organisms reflect the general microbiological condition of a food or the environment. They can be used to understand the microbial ecology of the processing environment and validate cleaning and sanitation.
 
How companies perform monitoring for foodborne pathogens in food handling or processing facilities. This is to identify and eliminate pathogen sources to reduce the risk of food contamination, which can lead to recalls and foodborne illness.
 
Review environmental monitoring for spoilage organisms. Microorganisms that increase the risk of spoilage are often well-adapted to survive in food manufacturing plants. Microbial spoilage can decrease quality, lead to decreased shelf-life and possibly recalls. See how environmental monitoring can reduce spoilage and threats to quality.
 
Programs for allergen testing, monitoring and cleaning are helping prevent cross-contact contamination during food processing as more people are being diagnosed with food allergies.
 
How to drive meaningful change in your organization through food safety culture and environmental monitoring.
Learn about these critical topics and download the handbook for yourself: Click here to access the handbook
Tags:
Date Published: 2nd September 2019
Source article link: View