Skin Microbiome Congress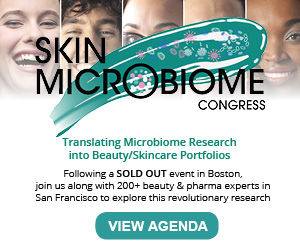 : 24 Sep 2019 - 25 Sep 2019
: San Francisco, United States
Sector: Cosmetic/Personal Care, Microbiome
Type: Conference
The average consumer spends $8 on skincare a day - with the microbiome set to be one of 2019's biggest skincare trend, Kisaco Research are incredibly excited to bring The Skin Microbiome Congress back to San Francisco for the 6th event in their global series.  
Last year, across their global series Kisaco Research connected over 600 industry leaders from pharma, beauty and personal care multinationals with innovative independent skincare brands, bio-techs, researchers and academics who are in the business of advancing the skincare industry.
This year's conference will include a deep-dive into the relationship between skin microbiome based-products, skin conditions, personalization, skin-gut supplements and anti-ageing.  
Don't miss the opportunity to explore next steps for skin microbiome R&D, commercialization and the crossover with microbiome nutrition.
The inaugural Skin Microbiome Congress in 2018 SOLD OUT, don't miss your chance to attend this year's event! 
Details

Venue
San Francisco
United States