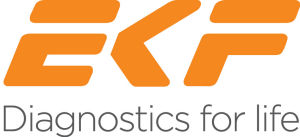 EKF Diagnostics Holdings plc
EKF Diagnostics is a global medical manufacturer of point-of-care and central lab devices and chemistry reagents including hemoglobin tests, HbA1c tests, glucose, and lactate tests.
Address Cardiff
United Kingdom
Website
Email
Telephone
+44 (0)29 20 710570
EKF specialises in developing tests for use in diabetes and anemia diagnosis and management, as well as providing a portfolio of reagents for use in clinical chemistry analysers.
EKF also manufactures and distributes PrimeStore® MTM on behalf of Longhorn Vaccines and Diagnostics. PrimeStore MTM (Molecular Transport Medium) is an FDA-cleared sample collection device that deactivates viruses including COVID-19, influenza A, influenza B, and mycobacterium tuberculosis allowing safe sample handling and transport, greatly reducing risk of infection to health workers, couriers, and lab technicians.
View All Product News
Microbiology Product Areas