Wide Range of Laboratory Autoclaves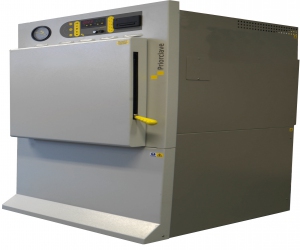 Manufacturer: Priorclave Ltd.
Automation: Not applicable
Suitability: suitable for laboratory use - material preparation and disposal
Capital equipment required: Yes
Description:
Priorclave has made the task of searching for your ideal autoclave or laboratory sterilizer much easier. In addition to the Product Finder on their Home Page, every product range incorporates a quick-selection guide to help easily locate the most appropriate autoclave for your laboratory application.
Key Points:
Benchtop Autoclaves - circular chambers 40-60 litres capacity
Front Loading Autoclaves - circular chambers 100-320 litres
RSA Autoclaves with rectangular chamber - 230-700 litres
Top Loading Autoclaves - circular chambers 60-200 litres
Double Door Autoclaves - circular or rectangular chambers 150-700 litres
Power Door Autoclaves - rectangular chamber with automatic door 230-700 litres
Company contact details:
Priorclave Ltd.
view full details
London
United Kingdom
Website:
Visit Website
Tel: +[44] 208 316 6620