VIAFLO 96/384 – Handheld Electronic 24, 96 & 384 Channel Pipette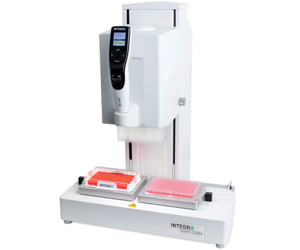 Manufacturer: INTEGRA Biosciences AG
Principle: Air displacement electronic pipetting system.
Automation: Yes
Suitability: Microplate applications eg serial dilutions, reagent additions and plate filling.
Capital equipment required: Yes
Description:
VIAFLO 96 and VIAFLO 384 offer a new approach to handheld microplate pipetting. The movement is guided by hand and assisted by servo motors. This results in an effortless and precise workflow, while being intuitive to use. With a choice of ten interchangeable pipetting heads, the unit quickly adapts to any 24, 96, 384, or even 1536 well pipetting application in a volume range of 0.5 μl to 1250 μl.
Key Points:
meets the need for an affordable, compact and easy to use pipette that provides increased productivity
enables transfers of 24, 96 and 384 samples in a single step and can be adapted to 1536 well applications, thus increasing pipetting throughput and reproducibility significantly
avoids pipetting errors and operator repetitive stress by reducing need for traditional handheld pipetting to a minimum.