VACUSAFE and VACUSIP – Aspiration Systems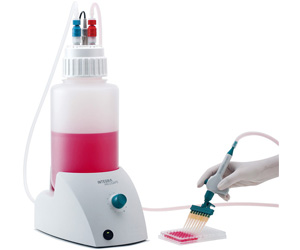 Manufacturer: INTEGRA Biosciences AG
Principle: Vacuum pump
Automation: Yes
Suitability: Safe aspiration of supernatants and liquid waste
Capital equipment required: Yes
Description:
The VACUSAFE and VACUSIP combine vacuum pump, collection bottle, overflow protection and filter in an all-in-one liquid aspiration system. Such closed aspiration systems offer the most effective method for containment of hazardous liquids by maximal personal protection. VACUSIP is the smaller out-of-the-box solution. Its rechargeable battery version increases mobility.
Key Points:
Hydrophobic filter prevents aerosols and liquid from entering the system.
Automatic shut-off combined with a signal when bottle is full.
Quick exchange of waste bottle due to screw cap sealing.
Integrated, silent pump for pleasant working.
One-button operation to adjust vacuum for simple use.
VACUBOY hand operator for convenient aspiration of all kind of liquid.
Space saving design for minimal work space consumption.