17th September 2012 Content supplied by:
Pipette Tips That Never Leak or Fall Off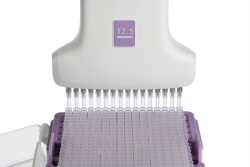 INTEGRA has designed GripTip pipette tips which, in tandem with VIAFLO pipettes, create a unique system that ensures your pipette tip will never loosen, leak or fall off again. The connection between pipette tip and tip fitting is a critical factor in ensuring accurate and precise pipetting.
When a generic pipette tip is attached to a pipette with a conical tip fitting, the pipette tip is widened. Due to the memory effect of polypropylene, the tip will slowly go back to its original shape causing the pipet tip to fall off. A touch-off (tip touch), which is generally performed after a pipetting step, will compound the issue because it wiggles the tip off. The unique design of the INTEGRA GripTips with tri-lobe tip fitting takes advantage of this memory effect. The shape of the GripTip pipette tip is altered briefly before springing back to its original shape and snapping onto the shelves of the tip fitting. As a result, GripTips will never accidentally fall off, even after touching off (tip touch).
Tags:
Date Published: 17th September 2012