SARS-CoV-2 IgG ELISA Kit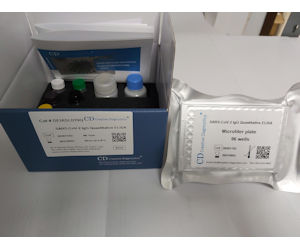 SARS-CoV-2 IgG ELISA Kit
Automation: No
Approvals: Research Use Only (RUO)
Capital equipment required: Yes
Description:
This kit is used for the quantitative detection of novel coronavirus IgG antibodies in human serum or plasma in vitro.
Principle: This kit is based on the indirect method (ELISA) principle to detect the SARS-COV-2 IgG antibody in human serum or plasma. The SARS-COV-2 whole virus lysate antigen is pre-coated on the enzyme-labelled strips. Add the test sample and incubate it. The IgG antibody in the sample is bound to the antigen. Wash the plate to remove SARS-COV-2 IgG that does not bind to the coated antigen. Add the enzyme-labelled reagent for a second incubation.
When a SARS-COV-2 IgG antibody is present in the sample, a "coated antigen-IgG antibody-anti-human IgG enzyme conjugate" complex will be formed. After rewashing the plate, the color reagent is added, and the HRP linked to the complex will catalyze the color. The reagent reacts to produce a blue product, which turns yellow after the reaction is terminated; if no SARS-COV-2 IgG antibody is present in the sample, it does not develop a color. Measure the OD value on a microplate reader or enzyme immunoassay system, and determine the presence or absence of a SARS-COV-2 IgG antibody based on the OD value.
Key Points:
High-sensitivity ELISA enables detection of low amounts of SARS-CoV-2 IgG
Rapid qualitative results in under 2 hours
High-throughput immunoassay measures up to 86 samples per kit
Please note : Any products described on this page are for Research Use Only and not intended for clinical diagnostic procedures unless otherwise stated.