Respiratory Virus 12 Types Nucleic Acid Detection Kit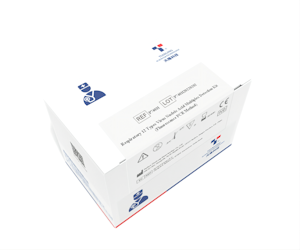 Principle: Real-time RT-PCR method
Automation: YES
Approvals: CE
Suitability: Widely applicable in instruments with FAM,VIC (HEX),ROX/Texas Red,Cy5fluorescence channels
Capital equipment required: YES
Description:
A variety of viruses can cause upper respiratory tract infections. This Nucleic Acid Multiplex Detection Kit is intended to detect 12 respiratory viruses nucleic acid qualitatively using Real-time (Reverse Transcription) Polymerase Chain Reaction (Real-time RT-PCR) method.
This kit can be used to detect influenza A, influenza B, respiratory syncytial virus, human metapneumovirus,human bocavirus, adenovirus, parainfluenza virus1/2/3/4, coronavirus and human rhinovirus.Differential diagnostics of 12 pathogens from one sample in a single run greatly simplify laboratory workflow.
Below products are also available, pls contact us for further info.:

Human Adenovirus (Ad) Detection Kit
Respiratory Syncytial Virus Genotype A/B Detection Kit
MERS-CoV Detection Kit
Legionella Pneumophila Detection Kit
Chlamydia Pneumoniae DNA Detection Kit
Bacillus Pertussis Detection Kit
Mycoplasma Pneumoniae (MP) Detection Kit
Ebola Virus (Zaire) Detection Kit
Mycobacterium Tuberculosis Complex Detection Kit
Influenza A/B Virus RNA Detection Kit
Respiratory Virus Detection Kit
Human Influenza Virus & Respiratory Syncytial Virus Multiplex PCR Kit
Respiratory Syncytial Virus Universal RNA Detection Kit
Human Metapneumovirus Detection Kit
Novel Coronavirus (2019-nCoV) Detection Kit
Influenza A/Influenza B/Human Adenovirus/2019-nCoV Detection Kit
Key Points:
12 in 1 test
Detects and distinguishes 12 types of respiratory virus, suitable for differential diagnostics of infectious virus causing Flu and Flu-like symptoms, 12 in 1 test greatly drives laboratory efficiency
More Accessible
CE marked, accessible for more counties
High Sensitivity
The limit of detection is up to 500 copies/mL
High Precision
The precision values of intra and inter Ct values are all <5%
Good compatibility
Widely applicable in instruments with FAM,VIC (HEX),ROX/Texas Red,Cy5fluorescence channels
Please note : Any products described on this page are for Research Use Only and not intended for clinical diagnostic procedures unless otherwise stated.