ProtoCOL 3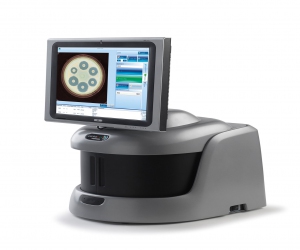 Manufacturer: Synbiosis
Principle: High resolution camera counts colonies or measure zones of inhibition
Automation: Yes
Suitability: High throughput labs that need automated, recordable plate interpretation
Capital equipment required: Yes
Description:
ProtoCOL 3 is the next generation instrument for colony counting, zone measurements (inhibition and AST), membranes, Petri-film and a range of other applications including: spiral plates, OPKA (opsonophagocytic killing assay), SBA (serum bactericidal assay), Multi-sector, Multi-well, SRD (single radial immunodiffusion) and Ames.
Key Points:
High throughput, ProtoCOL 3 is typically used when large numbers of plates need to be counted or measured rapidly and accurately. 
Sensitivity, Due to its highlysensitive CCD camera with high resolution, colonies as small as 43 microns (0.043mm) can be easily counted and zones can be accurately measured to 0.1mm.
Colour imaging, The unique LED lighting in the system gives full colour images. 
Traceability, All data generated has a full audit trail. All report generation is traceable and has an audit lock. Data is CFR compliant and the system can be connected to a LIMS if required
Please note : Any products described on this page are for Research Use Only and not intended for clinical diagnostic procedures unless otherwise stated.
Areas:
Clinical

Food & Beverage

Veterinary
Company contact details:
Synbiosis
view full details
Cambridge
United Kingdom
Tel: +[44] 1223 727125