Milliflex® Quantum Rapid Detection System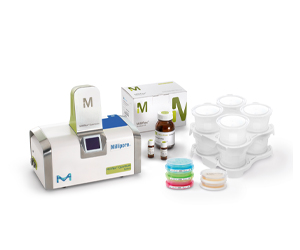 Milliflex Quantum Rapid Microbial Detection System
Principle: Universal enzymatic fluorescent staining of viable and culturable microorganisms.
Automation: No
Approvals: Rapid microbial methods need to be validated. The Milliflex® Quantum system overcomes validation challenges by offering a solution based on minimal change to the compendial tests.
Suitability: Raw material (media, buffers, pharmaceutical ingredients, water) in-process samples (bioburden prior to sterilization, CIP/SIP, cell culture/fermentation samples, fermentation media, manufacturing buffers, intermediate process samples)
Capital equipment required: Yes
Description:
The Milliflex® Quantum System is a rapid fluorescent-based technology designed for fast quantitative detection of microorganisms over a broad range of filterable matrices. This easy-to-use and simple system uses industry-standard membrane filtration techniques to detect viable and culturable microorganisms down to 1 CFU per sample. Test results are also comparable to your current microbial test results, which facilitates validation of this rapid system in any laboratory. The non-destructiveness of this method also allows you to identify any microorganisms detected during the initial fluorescent count, using your current ID methodology.
Key Points:
Detection times for most microorganisms between 8 – 48 hours
Easy-to-use and simple workflow, requiring minimal training
Compatible with any ID technology
Results comparable to compendial method, facilitating Milliflex® Quantum validation
Economical, robust system
Compact hardware
Please note : Any products described on this page are for Research Use Only and not intended for clinical diagnostic procedures unless otherwise stated.
Areas:
Clinical

Pharmaceutical

Water