EVOLVE – Manual Pipettes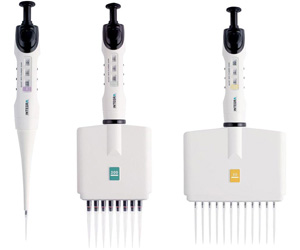 Manufacturer: INTEGRA Biosciences AG
Principle: Air displacement manual pipetting system
Automation: No
Suitability: Serial dilutions, reagent additions, rapid liquid transfer
Capital equipment required: Yes
Description:
EVOLVE manual pipette features three adjustable dials to set volumes rapidly. This revolutionary approach reduces repetitive stress injuries and allows users to set volumes in a fraction of the time it takes with a traditional manual pipette. The single, 8, 12 and 16 channel versions of EVOLVE pipettes are available with volume ranges of 0.2 – 5000 µl.
Key Points:
Set volumes in the blink of an eye.
Differently sized plunger springs allow users to customize the force needed to depress the plunger to their preference.
Ultra-lightweight, well-balanced design provides unsurpassed ergonomics even during prolonged pipetting sessions.
GripTips attach the same way every time to enable precise touching off.