Coxsackie A6/A10 Nucleic Acid Detection Kit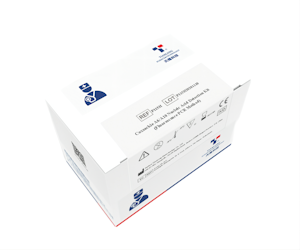 Principle: Real-time RT-PCR method
Automation: YES
Approvals: CE
Suitability: Widely applicable in instruments with FAM,VIC (HEX),ROX/Texas Red,Cy5fluorescence channels
Capital equipment required: YES
Description:
Hand, foot, and mouth disease (HFMD) is an infectious disease caused by enteroviruses, characterized by fever and vesicular eruptions on the hands, feet, and mouth. There are more than 20 kinds of enteroviruses that cause HFMD. Among them, enterovirus 71 and coxsackie A16 are the most common pathogen. But in recent years, non-EV71 and non-CA16 EVs have become important pathogens causing HFMD, among which Coxsackievirus group A Type 6 (CA6) and Coxsackievirus Group A Type 10 (CA10) are important pathogens.
Tianlong Coxsackie A6/A10 Nucleic AcidDetection Kit is intended to qualitatively detect Coxsackie A6/A10 virus nucleic acid by Real-time reverse transcription Polymerase Chain Reaction(Real-time RT-PCR) method, assisting in the diagnosis and treatment of Coxsackie A6/A10 virus infection patients and public healthcare management.
Below products are also available:
Vibrio Cholerae O139/O1 Detection Kit
Astrovirus Detection Kit
Salmonella Enterica/Shigella Multiplex Detection Kit
Coxsackie A6/A10 Detection Kit
Enterovirus 71/Coxsackie A16/ Enterovirus Universal RNA Detection Kit
Enterovirus Universal RNA Detection Kit
Norovirus (NoV) Genotype GI/GII Detection Kit
Diarrhea Virus (5 Viruses) Detection Kit
Sapovirus/Adenovirus/Astrovirus Multiplex Detection Kit
Rotavirus Universal RNA Detection Kit
Rotavirus Genotype A/B/C Detection Kit
Escherichia Coli DNA Detection Kit
Salmonella DNA Detection Kit
Staphylococcus Aureus DNA Detection Kit
Listeria Monocytogenes DNA Detection Kit
Key Points:
lnnovative 3-in-1 tube PCR
Innovative single-tube PCR, with reaction solution, primers and PCR enzymes in one tube ,minimize time of sample adding and PCR detection within 40 minutes
Accurate Detection
Detection and differentiation of Coxsackie A6/A10, the important HFMD causing pathogen
High Precision
The precision values of intra and inter Ct values were all <5%
User-friendly
Widely applicable in instruments with FAM, VIC(HEX),CY5 fluorescence channels
More Accessible
CE marked, accessible for more countries
Please note : Any products described on this page are for Research Use Only and not intended for clinical diagnostic procedures unless otherwise stated.