Contam Swab - Total Counts and ID from Environmental Surfaces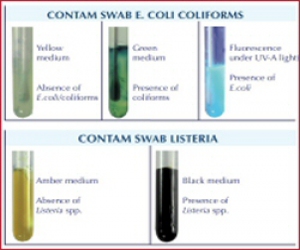 Manufacturer: Liofilchem
Principle: A selective culture medium with growth indicator
Automation: No
Suitability: Hygiene monitoring of surfaces in any clinical or industrial environments
Capital equipment required: No
Description:
The CONTAM SWAB is a swab based test with culture media for easy microbial counts and identification directly from environmental surfaces. The Contam Swab range consists of:
Total count (ref. 86100)
E. COLI COLIFORMS ref. 86101
LISTERIA ref. 86102
SALMONELLA ref. 86103
MRSA ref. 86104
Yeasts and Moulds ref. 86105
Each box of Contam Swabs contains 30 tests.
Key Points:
Easy to use.
Clear color changes.
Incubation at 37°C and results in 18-24 hours.
10 CFU/mL detection limit.
Please note : Any products described on this page are for Research Use Only and not intended for clinical diagnostic procedures unless otherwise stated.