CDL96 Real Time System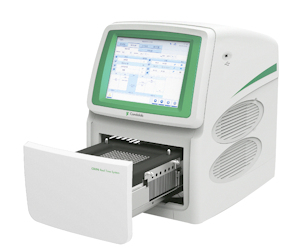 Principle: Real-time PCR System
Automation: Yes
Approvals: CE and IVD marked
Suitability: Food and water quality control labs, microbiological analysis labs, medical institutions, research institutes, veterinary centers, and more.
Capital equipment required: Yes
Description:
After decades of expertise in the manufacturing of microbiology culture media and the distribution of molecular biology top brands, Condalab has launched a Real Time PCR Thermal Cycler alongside our Condagene® qPCR pathogen detection kits.
Condalab's new Real Time PCR detection system has been designed to suit the needs of every professional that needs to detect and/or identify specific genes or microorganisms.
The CDL96 Real Time System feature packed to offer the users all they might need for their PCR experiments. With the CDL96 you will be able to perform any kind of PCR assay with ease thanks to the extremely user-friendly interface and trusty recovery mode.
Key Points:
96 sample throughput: perform a high number of qPCR reactions in a single run
Unmatched temperature control: thanks to the Peltier heating and cooling method you can achieve a maximum heating ramp rate of more than 6.1ºC/sec and a maximum cooling ramp of more than 5.0ºC/sec
Special temperature settings: Support PCR assays of up to 12 thermal gradients, Long PCR, Touch Down PCR
Convenient power outage protection: you can recover your experiment right where it was in case of a sudden power outage
User-friendly interface: you can run your experiment and introduce all your settings using the built-in 10.4" screen or you can fine-tune your experiments using the advanced software for PC
Powerful software analysis tool: qualitative analysis, absolute and relative quantitative analysis, endpoint fluorescence analysis dissociation curve analysis, SNP analysis, and more
Please note : Any products described on this page are for Research Use Only and not intended for clinical diagnostic procedures unless otherwise stated.
Areas:
Clinical

Food & Beverage

Laboratory Equipment

Veterinary

Water