Biological Indicators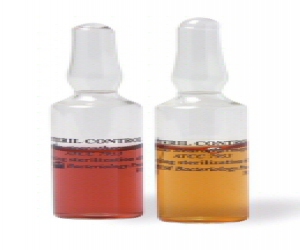 Manufacturer: Liofilchem
Principle: Microbial spore tests for qualifying sterilization processes
Automation: No
Suitability: Sterilization process monitoring
Capital equipment required: No
Description:
The international Pharmacopoeia regulations recommend the use of bioindicators for the validation, qualification and monitoring of sterilization processes of drugs, medicines in vials, culture media and medical instruments. Liofilchem provides a wide range of bioindicators for the steam, ethylene oxide, dry heat, hydrogen peroxide and irradiation sterilization processes.
Key Points:
Bioindicators manufactured by Liofilchem are available in ampoule, self-contained, strip, suspension and coupon formats in several materials such as glass, aluminum, poliflex, steel, PVC.
We also produce custom-sized Biological Indicators on request.
All our Bioindicators have a certificate reporting D values, survival time, kill time, population and purity.
Biological Indicators are manufactured in strictly controlled environment.