Automatic Nucleic Acid Workstation -PANA9600S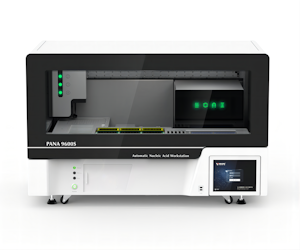 Principle: Magnetic beads methods and rotary mixing technology
Automation: Yes
Approvals: CE, FDA
Suitability: For nucleic acid extraction and PCR setup
Capital equipment required: No
Description:
PANA 9600S automatic nucleic acid workstation is designed according to the principles of magnetic beads method and rotary nucleic acid extraction technology. This workstation integrates the workflow of sample information scanning, sample loading, nucleic acid extraction, and PCR system setup, which makes your experiment easy to start and delivers enormous time savings for professionals. With compatible nucleic acid extraction kits, the nucleic acids needed can be extracted quickly and efficiently from various sample types, including whole blood, serum and plasma, swab, and urine for specific downstream applications.
We also have other products with nucleic acid extraction function, please contact us for more information using the green "Request more information" button below.
Key Points:
One-key operation for modularized experiment flow
With one-key operation, automated sample information scanning, sample loading, nucleic acid extraction, and PCR system setup for 96 samples of novel coronavirus can be finished within 50min
Minimized contamination measures
With rotary nucleic acid extraction, smart drop capture, strict zoning, air filtration, and UV disinfection technology, cross-contamination can be reduced to ensure accurate results.
High precision and reliable results
With precise sample loading, accurate temperature ramp control, and precise liquid transfer design, consistent and precise results can be ensured for each of your assays.
Highly flexible for your needs
Compatible with various sample types and extraction kits, 4 PCR systems can be set up at the same time.
Automated workflow and hands-free operation
Automated bar-code scanning for reagent identification, sample loading, nucleic acid extraction, PCR system setup; visualized consumable recognition; easy connection with LIS (laboratory information system)
Please note : Any products described on this page are for Research Use Only and not intended for clinical diagnostic procedures unless otherwise stated.