Growth Direct®: Growth-based System for Automated Compendial Testing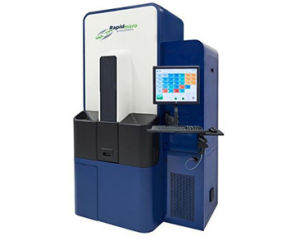 Principle: Rapid Microbiological Detection with high volume automation by using multiple robotic arms, two on-board incubators, and an imaging system that analyses user-prepared samples and ensures complete data integrity.
Automation: YES
Approvals: 21 CFR part 11 compliant
Suitability: Suitable for manufacturing Quality Control (QC) labs and high throughput labs in regulated industries.
Capital equipment required: YES
Description:
Growth Direct is the first automated platform for 3 critical QC applications: environmental monitoring, water testing, and bioburden testing.
Faster results with fewer human errors due to misplaced or mislabeled plates, miscounts, and transcription mistakes
Increased lab efficiencies
Decreased hands-on labor
Plus, Growth Direct's user-friendly, secure software is designed to be compliant with the requirements of 21 CFR PART 11 to help ensure data integrity and sample security.
Key Points:
Only system that automates the compendial method of EM and Bioburden to improve the efficiency, productivity, and profitability of your facility.
Ensures data integrity and security critical to effective, efficient and compliant microbial QC
Uses same media as defined in the Pharmacopeia; R2A, TSA, TSA LP80, LP80HT, and SDA.
Sample prep mirrors traditional methods
Based on Nobel Prize-winning blue LED light technology
Delivers results quickly and efficiently
Reduces the risk of human error
Integrates seamlessly into your LIMS
Streamlines quality while reducing costs