27th June 2023 Content supplied by: INTEGRA Biosciences AG
The Future is Green: Building a More Sustainable Microbiology Lab 
It's no secret that life sciences laboratories use large amounts of plastic, water, and electricity to carry out even their most basic daily tasks, garnering them a reputation for being environmental polluters. In fact, it's estimated that labs produce a staggering 5.5 million tons of plastic waste every year1 and use about four times more water and ten times more electricity than office spaces of the same size2. Fortunately, laboratory users are fast becoming aware of their facilities' environmental footprints and are actively searching for ways to reduce their negative ecological impact and achieve national carbon-zero targets. Transitioning to a greener microbiology lab can seem like a daunting task at the outset, with so many different factors to consider. In this article, Dr. Ursula Leuthold, Sustainability Coordinator at INTEGRA Biosciences, explains the most important practical steps that microbiology labs can take to improve their environmental sustainability.
How can labs adopt sustainable plastic usage? 
Plastic is well suited to lab applications, being versatile, durable, inexpensive, and quick to manufacture. It's, therefore, no wonder then that microbiology labs are such heavy plastic users, consuming huge quantities of pipette tips, storage containers, packaging, and personal protective equipment. The presence of plastic in the lab is inevitable, but in the future, facilities will be able to drastically reduce their carbon emissions by switching from traditional fossil fuel-based plastic consumables to bio-based polypropylene or carbon dioxide-based polyolefin products. Bio-based plastic goods are typically manufactured using renewable polypropylene feedstocks generated from waste food oil and other food residues. Alternatively, the methanol and naphtha building blocks for polyolefins can be synthesised by combining carbon dioxide (CO2) with green hydrogen. This process also captures carbon from the atmosphere, giving CO2-based plastics a lower carbon footprint than virgin fossil plastics. 
Estimates predict that recycling and bio-based and CO2-based products will be able to cover the entire global demand for plastic by 2050.3 At present, however, not many bio-based or carbon dioxide-based goods are available due to a lack of resources, large-scale plants, and the economic incentives to make the switch to sustainable feedstocks. Moreover, much of the laboratory equipment used in many microbiology workflows, such as pipette tips, must be sterile and free from contamination to ensure accurate results, so plastic consumables with high purity requirements are often single-use and cannot be made from recycled material. This means that labs currently need to limit their plastic use to reduce their carbon emissions, for example, by buying tips in a 384-well format rather than a 96-well format or in eco-friendly racks with reduced packaging material.
However, some items – like conical tubes, reservoirs, and plastic bottles – can be washed and reused in non-sterile workflows, provided they are not damaged and haven't been in contact with biohazardous materials. Non-hazardous plastic waste that can't be reused should be recycled locally whenever possible. Recycling programmes and guidelines differ greatly between countries and regions, so it's important for labs to proactively research their local schemes and educate lab users as to recycling best practices. This material can then be downcycled and made into a range of consumer goods instead of entering landfill sites. If local recycling facilities are unavailable, sending plastic waste to a cement or waste plant for energy recovery by incineration is the best alternative.
How can better-ordering practices reduce carbon emissions?
Keeping an up-to-date stock inventory can help to eliminate the need for fast or even next-day deliveries – which may only be possible by air freight – producing 200 times more carbon emissions than sea freight. Planning ahead so that you know what you will run out of in the next few weeks allows bulk ordering, which cuts down on packaging waste and enables more environmentally friendly delivery options.
What can lab users do to save energy? 
Simply getting into the habit of switching off all electrical equipment when not in use, or installing socket timers, will dramatically cut down on electricity use. Similarly, an open fume hood consumes as much electricity as 3.5 single-family homes in the same period of time,4 so closing the fume hood sash will save resources and reduce greenhouse gas emissions. Ultra-low temperature freezers (ULFs) consume about the same amount of energy per year as an entire household.5 The good news is that there are many things users can do to ensure they are running as efficiently as possible. For example, it's better to have a single full ULF running instead of having two half-full units, so labs should consider sharing freezer space. Keeping a thorough record of all samples kept in the freezer, along with their locations, will help staff to find the materials they need immediately, minimising the time that the freezer door is open and preventing too much cold air from escaping. Correct ULF placement in the lab – away from heating vents and direct sunlight – regular defrosting and routinely checking door seals are tight will also help to enhance cooling efficiency. Finally, it may be possible to increase the temperature of your ULF without detrimentally affecting the integrity or viability of stored samples, with a temperature increase of just 10 °C – from -80 to -70 °C – using an average of 37 percent less electricity.6
Is it possible to reduce water consumption in a microbiology lab? 
Labs can save a lot of water by using electrically-powered vacuum aspiration systems instead of connecting a vacuum flask to a water jet pump when aspirating liquid waste. Another tip is to install low-flow aerators onto all faucets. These devices reduce flow and mix the stream with air, saving significant amounts of water. We also suggest that you only run dishwashers and autoclaves when they are completely full, which may mean you need to ask colleagues or other labs if they can help you to fill them up. Lastly, purified water is very resource intensive – the production of one unit of deionised water requires three units of standard tap water7 – so it should be used sparingly and only when absolutely necessary. For example, many tasks – such as heating water baths, preparing media, and cleaning glassware – can be performed with ISO Grade 3 water instead,7 which requires less water and energy to generate. 
How is INTEGRA supporting green lab practices? 
INTEGRA is committed to becoming a sustainable supplier and has adopted company-wide emissions reduction targets through the Science Based Targets initiative (SBTi), aiming to limit global warming to 1.5 °C and achieve net zero as soon as possible, which means that all unavoidable emissions must instead be captured. As part of this scheme, INTEGRA has embraced a de-fossilisation programme to reduce the amount of plastic used in our products. For instance, our ECO racks have been manufactured with up to 60 percent less plastic material than our previous generation of standard pipette racks for several years, and we now offer our small-volume GRIPTIPS pipette tips (12.5 μl, 50 μl, and 125 μl) in a 384 tip format, rather than the industry standard 96 tip format, allowing you to load four times more tips into each rack. 
As well as this, we aim to gradually replace the remaining fossil-based plastics in our products with renewable raw materials – including bio- and CO2-based plastics – across our whole portfolio. The worldwide availability of these substitutes is sadly still low, and the materials carry a high price, but INTEGRA will bear part of the additional cost, alleviating the financial strain on our customers to encourage the widespread use of these eco-friendly materials in life sciences laboratories.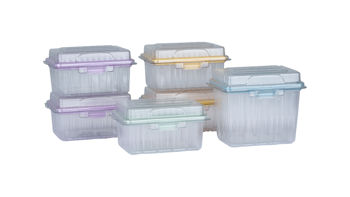 INTEGRA ECO racks use up to 60 percent less plastic material than the previous generation of GRIPTIPS racks.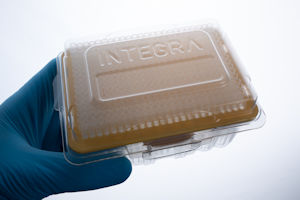 INTEGRA small-volume GRIPTIPS pipette tips are available in racks of 384 to minimise the number of racks – and plastic – you use. 
Another key aspect of our de-fossilisation programme is reducing energy and fuel use. To this end, INTEGRA devices are designed to use very little energy during operation, thanks to features such as energy-efficient motors and displays. We also use only renewable electricity to power the energy-intensive injection moulding process during tip manufacture. The biggest source of the company's CO2 emissions is shipping and transport. That's why we are building a second manufacturing site for pipette tips in Switzerland. This will allow us to produce tips closer to where our customers need them and reduce transport emissions. Furthermore, we are investing in bigger warehouses in our direct sales countries so we can build up a local stock of our most popular products. This will allow us to ship more products by sea rather than by air to these central storage facilities, cutting down on delivery distances to end users.
INTEGRA has produced a poster summarising the many ways to enhance the sustainability of your microbiology lab. Download it for free here. 
References
About the Author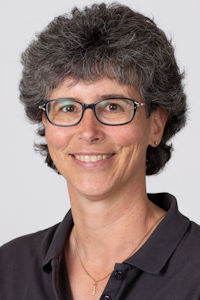 Dr. Ursula Leuthold is the Sustainability Coordinator for INTEGRA Biosciences. She has a master's degree in biology, a Ph.D. in immunology, and postgraduate education in business administration. Ursula has been actively engaged in environmental politics since a young age and, together with other climate activists, helped achieve a ban on investments in coal-fired power plants by state-owned energy companies in Grisons, Switzerland.
Please note : Any products described on this page are for Research Use Only and not intended for clinical diagnostic procedures unless otherwise stated.
Tags:
Date Published: 27th June 2023
Source article link: View