25th September 2014 Content supplied by: ATCC
Testing Culture Media in Pharmaceutical QC Labs
In pharmaceutical quality control laboratories, media is frequently used for environmental monitoring, sterility testing, and microbial enumeration tests. The reliability and accuracy of these microbial-based tests greatly depends on the quality of the culture media; if the media is not the right quality, it undermines all of the tests that the media is used for.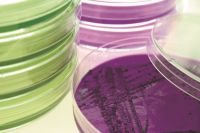 To help safeguard the quality of culture media, ATCC offers a number of ATCC Genuine Cultures® recommended by the United States Pharmacopeia (USP) for use in media testing. Each strain is Quality Controlled utilizing a polyphasic approach that incorporates:
Automated phenotypic testing
Genotypic analysis
Traditional biochemical methods when applicable
Further, because ATCC has been the source for well-characterized microbial strains since 1925, you can be sure your strain is a direct descendant of the original material deposited with ATCC. These strains are ideal for use in routine sterility and growth promotion testing, minimum inhibitory concentration assays, and the analysis of selective/differential media.
To learn more about ATCC products that support the quality control of microbial culture media, please visit us online at www.atcc.org/QC.
Tags:
Date Published: 25th September 2014
Source article link: View