17th April 2015 Content supplied by: Priorclave
Tamperproof Laboratory Autoclaves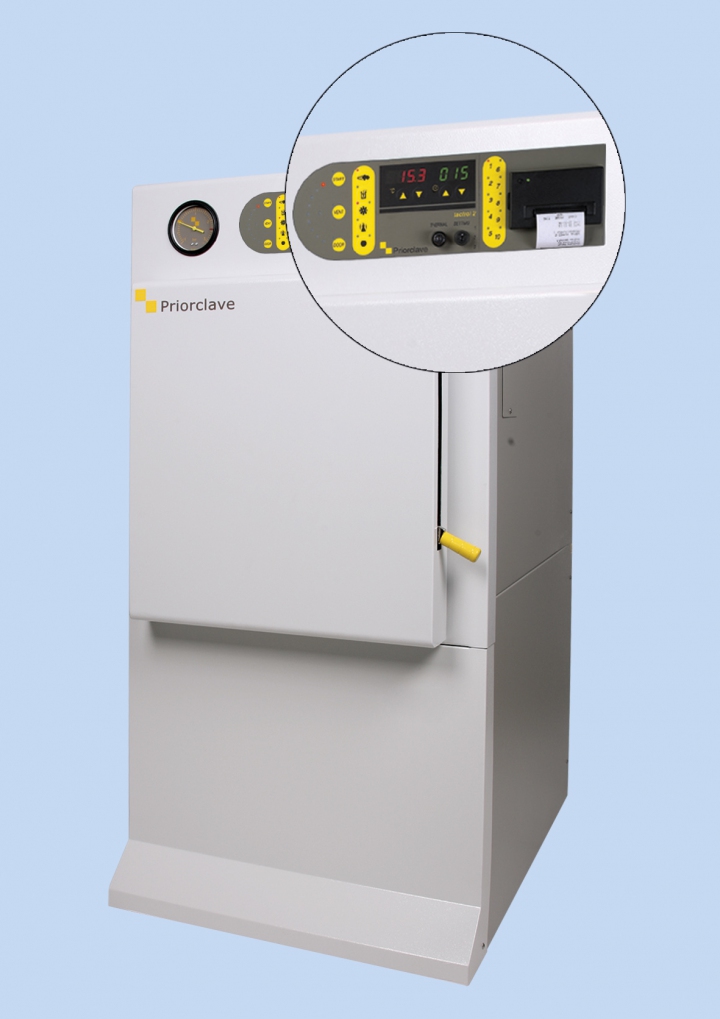 What makes the Priorclave QCS H150, 150 litre front loading autoclave one of the safest laboratory autoclave for the busy research laboratory is the secure key-lock which prevents unauthorised access to pre-set sterilising processes.
The key-lock switch is on the front of the control panel and provides three levels of authorisation – pre-set which is the basic setting, intermediary allowing adjustment of cycle times and temperatures, and the third is a master level allowing other performance settings to be activated such as accelerated cooling and media warming.  The benefits of manual key-switch make accessing each different level much simpler, faster and easier.
The Priorclave QCS H150 is a front-loading a 150 litre chamber autoclave; access to the stainless steel, 500mm diameter sterilising chamber is via a wide door opening that allows easy loading of even the heaviest loads which may be delivered direct by trolley. Another benefit is that small and tall items can be sterilised side-by-side in a single process.
Precise control of the sterilising process has been made easy using single push-buttons on the Tactrol® 2 microprocessor control panel.  One touch controls enable the user to easily step through settings of temperature and time in accordance with HSE prescribed sterilising parameters for a specified load.
In addition to guiding laboratory personnel through the simple programming the advanced Tactrol®2 microprocessor also keeps a log of the sterilising cycle data such as temperature, pressure and time.  The data is held in an archive file which can be subsequently downloaded onto a USB flash drive for sending to the Service Team at Priorclave's UK manufacturing centre.  Here technical staff will analyse the data to help fine-tune the autoclave for maximum efficiency.
Built to International Standards, the QCS H150 autoclave incorporates epoxy coated panels and frame members treated with an anti-bacterial agent that is highly effective against all bacteria and fungi including MRSA, E.coli, Listeria, Legionella, Campylobacter, Salmonella, and Pseudomonas, preventing cross contamination within the laboratory.
The QCS front- loading autoclaves will appeal to laboratory managers in diverse business sectors such as food, drink, dairy, pharmaceutical, agricultural, education, healthcare and dedicated research establishments for sterilising applications such as media preparation, liquids and diluent, waste, glassware instruments and pieces of apparatus that need superior cleansing.
The QCS front loading autoclave range designed and manufactured by Priorclave in the UK should help any laboratory increase its sterilising throughput owing to the combination of improved load capacity and exceptional operating performance.  There may also be the added benefit of lower energy costs associated with reduced power and water usage.
Please note : Any products described on this page are for Research Use Only and not intended for clinical diagnostic procedures unless otherwise stated.
Tags:
Date Published: 17th April 2015
Source article link: View