1st September 2016 Content supplied by: Priorclave Ltd.
Sterilise Large Bulky Items in Priorclave's New 400 Litre Autoclave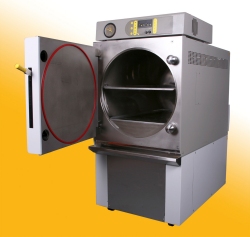 Introduction by Priorclave of a laboratory autoclave with a 400 litre sterilising chamber will be good news for organisations looking to purchase an affordable, and versatile steam steriliser.  It offers exceptional load capacity, up to 20% more space than conventional machines.  This is achieved with taller chamber profile than that found in most 'cylindrical' machines which makes it ideally suited for sterilising larger bulky items.
The new 400 litre laboratory autoclave and research grade steriliser is the latest addition to Priorclave's established Q63 range of autoclaves.  The build quality incorporates epoxy coated panels and frame members which are treated with an anti-bacterial agent that is highly effective against all bacteria and fungi including MRSA, key factors in preventing cross contamination within a laboratory.
Whilst offering improved loading and much easier and safer chamber access it also features an advanced, purposed design micro-processor controller.  This very much simplifies push-button programming as well as maintaining a watching brief over the sterilisation process.
The Priorclave 400 litre laboratory autoclave follows the proven design and build-quality of the smaller and highly successful 320 litre autoclave model.  It therefore launches with known reliability factor and complies with international standards.
The Q63 laboratory autoclave and research steriliser range is now available in two standard models - 320 and 400 litres.  It has created an ideal mid-size capacity autoclave range for applications across so many sectors including food and beverage, dairy, pharmaceutical, education, and microbiology.
Priorclave is a British autoclave design and manufacturing centre and has become a household name within the global laboratory autoclave market.  It produces an impressive range of top and front loading steam sterilisers that include benchtop as well as front loading rectangular, power door and double-ended designs, laboratory autoclaves that have become synonymous with quality, reliability and highly efficient autoclaving processes.
Please note : Any products described on this page are for Research Use Only and not intended for clinical diagnostic procedures unless otherwise stated.
Tags:
Date Published: 1st September 2016
Source article link: View
Related news