1st March 2017 Content supplied by: Associates of Cape Cod, Inc.
Kinetic Endotoxin Detection System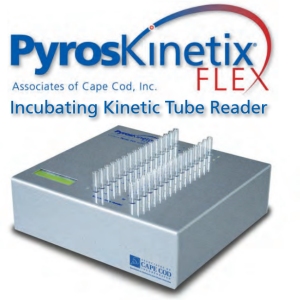 Designed for performing both kinetic chromogenic and turbidimetric endotoxin assays, the Pyros Kinetix® Flex optical tube reader, together with the Pyros® EQS 21 CFR Part 11 compliant software results in a flexible, efficient system for meeting the requirements of the USP, EP, and JP bacterial endotoxin test chapters.
The Pyros Kinetix® Flex tube reader is available in three configurations: 32, 64 or 96 well tube format.  The system is flexible enough to meet the demands from either low or high throughput labs.  The test in each well is independently actuated, which assures accurate timing and allows the operator to add more samples while an assay is in progress.
Key Features and Benefits:
Broad Sensitivity Range: no other system is more sensitive; as high as 0.001 EU/mL with Pyrotell®-T or Pyrochrome® lysate
Precise Temperature Control incubator, holds temperature at 37°C ± 0.5°C
Increased Efficiency: samples can be added to an existing run at any time and software provides quantitative sample results while assay continues to run
Flexible Testing: Variable volumes and ratios can be utilized; ability to maximize product MVD (Maximum Valid Dilution), choose from two wavelength settings and 32, 64 or  96 tube format
Cost Efficent with reduced Lysate usage (as little as 50μL per test), low cost pyrogen free disposables and solid state design with low maintenance requirements
For more information visit Associates of Cape Cod website: www.acciusa.com
Tags:
Date Published: 1st March 2017
Source article link: View