1st July 2020 Content supplied by: PathogenDX
Second Wave? - Do Public Facilities Need to Test Air for SARS-CoV-2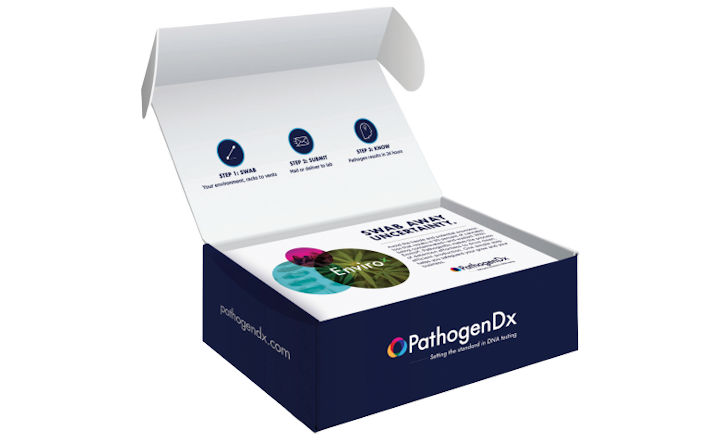 PathogenDx has announced it is teaming up with Bertin Instruments to create an innovative solution to detect SARS-CoV-2 and other airborne viruses.
This new solution pairs Bertin's Coriolis Air Sampler with PathogenDx's EnviroX-Rv testing technology to provide public facilities and buildings with a fast and accurate way to monitor the air for contaminants that pose a risk to public health.
SARS-CoV-2 and other viruses can be aerosolized through droplet transmission from a sneeze or even just people talking. These particles can remain suspended in the air for up to three hours, or fall on surfaces for up to 2-3 days. In office buildings or other facilities with no natural ventilation, early detection and identification of air contamination are crucial to protect public health and prevent disease spread.
The Coriolis is a portable, light bio-air sampler that can circulate vast volumes of liquid air inside its cyclonic-like filter, allowing it to trap biological particles efficiently. PathogenDx's EnviroX-Rv test kit is then used to analyze the air sample to determine viral presence through highly sensitive and specific DNA microarray analysis. Results are produced rapidly so that the presence of the virus can be detected, as well as to assess confirmation of sanitation or disinfection procedures within buildings has been done effectively.
"Too many tests on the market are providing false negatives that undermine the confidence people need to return to their normal routines," said Sophie Dubacq, Product Manager of Bertin Instruments. "We chose to co-market the Coriolis with EnviroX-Rv because it is simply the most accurate test available. The two products together can ensure the safety and health of a building and its occupants."
The detection minimum for many viral tests is 20-50 copies of the virus. In contrast, EnviroX-Rv is ten times more sensitive and can accurately detect a virus with a smaller viral load, as little as one copy. Where other COVID-19 detection tests are accurate only 50-85% of the time, EnviroX-Rv delivers 98% accuracy.
"COVID-19 has had a pervasive impact on both our economy and our psyche. People won't return to their place of work or the restaurants and other places they gather until they have peace of mind that those buildings are safe," said Milan Patel, Co-founder & CEO of PathogenDx. "As we work towards a vaccine, this innovative solution can help facility managers monitor buildings, confirm that the sanitation and remediation solutions they are using are effective and so we can safely restart our economy."
Tags:
Date Published: 1st July 2020