29th January 2018 Content supplied by: Micronic BV
Seal Full Rack of 96 Tubes with Single Action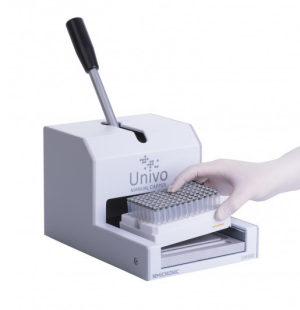 In order to accelerate the sample storage workflow in the lab, Micronic made the Manual Capper CM480 to seal a full rack of 96 tubes with push caps in a single action. The capper is extremely easy to use and makes the process of sealing tubes with push caps more efficient. The Manual Capper is an ideal economical alternative to large and automated capping equipment.
The manual capper is designed by Micronic to repeatedly and reliably secure tubes without the need for electricity. This makes the capper is environmentally friendly, mobile and cost efficient. The capper can be used to seal tubes in all ANSI/SLAS format racks up to a maximum height of 48mm. Consequently, the Micronic 0.50ml, 0.75ml, 1.10ml and 1.40ml tubes with internal thread can be sealed with the Manual Capper.
The Manual Capper CM480 operates as a stand-alone device that is space efficient. No installation is required to use the capper. To operate, place a Capcluster on the racked sample tubes, slide the rack on the adapter into the Manual Capper rack entrance and with a simple forward/reverse action of the black handle all tubes are now evenly capped. After capping 96 sample tubes in one action, the Capcluster retaining foil can be simply removed to leave each tube individual securely capped.
Built to meet the varying needs of different users, the Manual Capper can seal full or partially full racks with the complete range of Micronic TPE or EVA plug style Capmats, Capbands and Capclusters. Upon request, Micronic can develop adapters to make the tubes, caps and racks of other brands compatible with the Manual Capper.
The Manual Capper is designed and assembled by Micronic in the Netherlands. The capper comes standard with an adapter. For more information, contact sales@micronic.com or call your local Micronic sales office: www.micronic.com/contact.
Please note : Any products described on this page are for Research Use Only and not intended for clinical diagnostic procedures unless otherwise stated.
Tags:
Date Published: 29th January 2018
Source article link: View