16th July 2012 Content supplied by:
RIDASCREEN® Campylobacter (R4204) detects C. jejuni and C. coli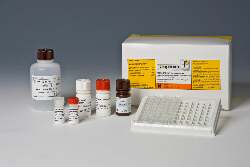 RIDASCREEN® Campylobacter ELISA (Art. No. R4204) is now available for the qualitative detection of Campylobacter in food samples and can be ordered from R-Biopharm. The assay detects C. jejuni and C. coli, the Campylobacter species which are responsible for the majority of food borne infections. The food samples have to be prepared by a selective two-stage pre-enrichment of samples with Bolton Selective Enrichment Broth. Each test kit contains a microplate with 48 wells as well as sufficient reagents to perform all determinations. Depending on the number of samples the immunological detection can be completed in less than 2 h.
RIDASCREEN® Campylobacter achieves significantly better recovery rates than conventional culture on Campylobacter agar, the method required for culture-based detection after selective pre-enrichment. This was confirmed in a national interlaboratory ring trial in Germany where the study was designed to validate PCR methods for the detection of Campylobacter in foods. The participants however were allowed to use the RIDASCREEN® Campylobacter ELISA as an unofficial alternative to the culture-based method of confirming the test results.
Seven out of the nine laboratories participating in the study used the ELISA as an additional confirmatory test. Using 8 positive and 8 negative ground meat samples each, a total of 112 samples were tested with the RIDASCREEN® Campylobacter ELISA. All negative samples inoculated with E. coli were confirmed negative by culture as well as by ELISA. Forty-eight of the 56 positive ground meat samples inoculated with C. jejuni, were tested by both culture and ELISA and were therefore available for comparison. RIDASCREEN® Campylobacter identified 31 of the Campylobacter-inoculated samples as positive whereas culture identified only 21 as positive. Likewise, the recovery rate was only 43 % for the traditional culture method compared to 65 % for the immunological RIDASCREEN® Campylobacter ELISA method.
Tags:
Date Published: 16th July 2012
Related news