3rd December 2019 Content supplied by: WLD-TEC GmbH
Reduce Plastic Lab Waste From Disposable Loops With Flame Free Infrared Loop Sterilizer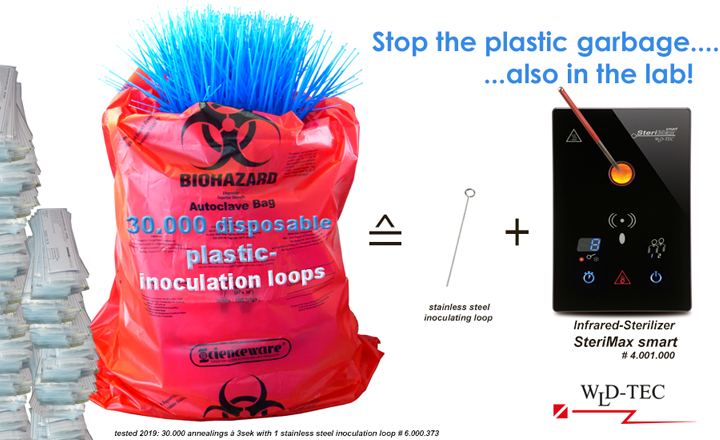 WLD-TEC GmbH specialists in safety laboratory gas burners and electrical annealing systems, are on a mission to reduce plastic waste in the lab caused by disposable inoculation loops. After testing the durability of stainless steel inoculation loops in combination with a safety laboratory gas burner and an infrared loop steriliser, WLD-TEC reported some startling results and statistics.
The test consisted of performing 30,000 annealings for a duration of 3 seconds each with only one 3 mm stainless steel inoculation loop with a wire diameter of 0.6mm. The results concluded that plastic waste from 30.000 disposable inoculation loops, plus their packaging, can be saved with one stainless steel inoculation loop used with an infrared loop steriliser, such as the SteriMax smart/basic or a laboratory gas burner such as the Fuego or Gasprofi series.
In addition to this huge amount of plastic waste that is caused when using 30,000 disposable inoculation loops, approximately €2500 in costs will be incurred. As the price for the SteriMax smart/basic, including stainless steel inoculation loops, does not exceed €800, the instrument allows users to protect the environment as well as save a lot of money.
Please note : Any products described on this page are for Research Use Only and not intended for clinical diagnostic procedures unless otherwise stated.
Tags:
Date Published: 3rd December 2019
Source article link: View