16th March 2018 Content supplied by: Roche CustomBiotech
Rapid Mycoplasma Kit Qualified for Cell Therapy In-house QC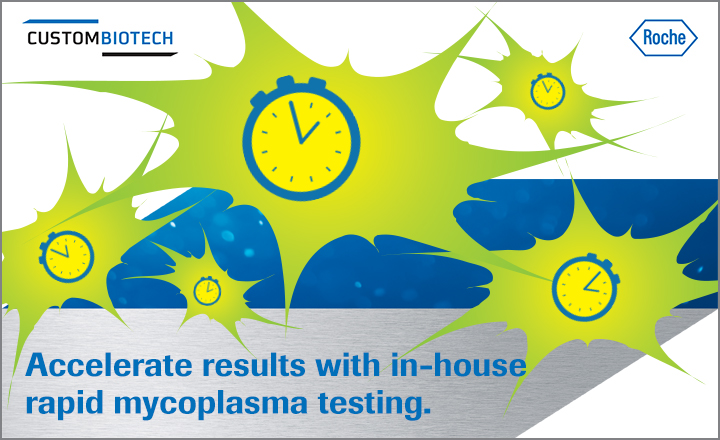 Key points:
Cost-effective qualification strategy
Significantly reduced turnaround time
Results prior to administration improving safety
Ongoing cost savings
Rapid microbiological methods (RMMs) are essential for cell therapy products because traditional testing methods do not meet the shorter product-release timelines. There are ways to incorporate RMMs, such as using a nucleic acid amplification technique as an alternative mycoplasma testing system. Regulators are well-positioned to accept alternative methods if properly qualified in-house but qualification is perceived as costly by cell therapy product manufacturers.
In a recent published paper titled "Strategy for an Abbreviated In-House Qualification of a Commercially Available Rapid Microbiology Method (RMM) for Canadian Regulatory Approval"(Cytotherapy December 2017), the authors present a strategy to qualify the Roche CustomBiotech MycoTOOL PCR Mycoplasma Detection Kit (endpoint PCR-based method) for rapid mycoplasma detection for in-process and product release testing. The academic institution's investigational cell therapy product, autologous mesenchymal stromal cells (MSCs), is being evaluated for treating patients with knee osteoarthritis.
The authors created an abbreviated qualification plan focusing only on sensitivity, limit of detection and ruggedness, utilizing MycoTOOL PCR Mycoplasma Detection Kit validation information published by Roche and a risk-based approach. The authors stated that utilizing the MycoTOOL PCR Mycoplasma Detection Kit for in-house testing allowed them to conduct a cost-effective qualification that met Health Canada regulatory requirements, as well as realize ongoing cost savings and significantly reduce sample turnaround time (1-3 days vs. greater than 12 days) compared to a third-party laboratory using a PCR-based method.
Link to publication discussed above: www.celltherapyjournal.org
For more information about Roche MycoTOOL mycoplasma testing kits, please contact custombiotech.ussales@roche.com or visit www.custombiotech.roche.com.
The work described in the above cited publication was supported by The Arthritis Program, Krembil Research Institute, University Health Network, Toronto, Canada, and they have no commercial, proprietary, or financial interest in the products or companies described in the article.
The MycoTOOL PCR Mycoplasma Detection Kit is for use in quality control/ manufacturing processes only. MYCOTOOL is a trademark of Roche. Other brands or product names are trademarks of their respective holders.
Please note : Any products described on this page are for Research Use Only and not intended for clinical diagnostic procedures unless otherwise stated.
Tags:
Date Published: 16th March 2018
Source article link: View