6th March 2017 Content supplied by: Hygiena International Ltd
Quick and Easy Verification of Pasteurisation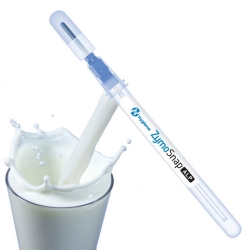 Milk pasteurisation efficacy is typically monitored by checking for the presence of alkaline phosphatase (ALP), thus ensuring the product is safe for consumption. Helping to ensure that this test is both quick and easy to perform is achieved by the new Hygiena ZymoSnap ALP pasteurisation verification device. Typical products that can be tested include milk, cream, flavoured milk and other milk-based products. ZymoSnap measures ALP enzyme activity in milk products, delivering results in just 5 minutes to provide a low-cost alternative to conventional test methods.
Historically drinking raw milk has been associated with disease and although pasteurisation was invented in 1864, it was not until the advent of flash pasteurisation (HTST - High Temperature Short Time) in the 1950's that a commercial process was devised to make high quality, nutritious, and safe products. HTST is mandated in many countries today and raw milk consumption is often banned or controlled.  However, research shows that between 0.87% and 12.6% of raw milk samples are contaminated with pathogenic microorganisms. The FDA reports that, in 2002, consuming partially heated raw milk and raw milk products caused illness in 200 Americans. Reliance on monitoring pasteurisation time temperature alone does not fully guarantee a safe product because it cannot detect cross contamination events. For example, in 1985 an incident in Chicago with a dairy linked to one of the nation's largest outbreaks of salmonella poisoning produced tainted milk one week after it was identified as the source of the outbreak and the dairy subsequently shut down. About 5295 cases of salmonella poisoning were confirmed in five states, most of them in Illinois and at least nine deaths were linked to the outbreak.
Alkaline phosphatase is a natural enzyme present in raw milk that is inactivated under HTST processes and is used as a marker of pasteurisation. The internationally recognised standard residual levels of ALP in pasteurised milk is <350mU and this is written into regulations in many countries.
Hygiena ZymoSnap ALP test provides a simple rapid convenient solution that requires the EnSURE luminometer and small a dry block incubator giving results in 5 minutes using a 2–step procedure. EnSURE luminometer is a multi-test platform that supports several other tests for hygiene monitoring that has multiple applications with the dairy manufacturing operations, thus providing a cost effective system for any dairy.
If desired, customers can use Hygiena's SureTrend data analysis software to track test results, automatically generate reports and maintain records for audit compliance. SureTrend is available free of charge with every Hygiena luminometer.
Hygiena's ALP Positive Control kit is used as a reference to the regulatory limit and for ongoing quality control with a long shelf life (12 months) that reduces wastage to ensure low running costs. Furthermore, this self-calibrating instrument requires virtually no maintenance and no servicing.
The ZymoSnap ALP instructional video for pasteurisation verification can be viewed on the Hygiena website at: www.hygiena.com/zymosnap-alp-food-and-beverage.html
Date Published: 6th March 2017
Source article link: View
Related news