30th June 2016 Content supplied by: R-Biopharm
Pseudomonas aeruginosa: A New Way to Track Down the Pathogenic Bacteria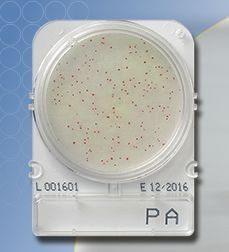 R-Biopharm has just launched a new test kit for the detection of Pseudomonas aeruginosa. "Compact Dry PA" is an easy-to-use dry culture medium plate which can be used for the analysis of water, beverages, solid foods, cosmetics and surfaces.
Detection of Pseudomonas aeruginosa is of great significance for food and beverage producers. The bacterium is one of the most dangerous pathogens in drinking water, one of the most common hospital germs and a frequent cause of food spoilage – and it is very difficult to control: Because of its high adaptability and low nutrient requirements, it can be found nearly everywhere as long as there is enough water. Common habitats are moist soils and lakes as well as toilets, sinks, swimming pools and dishwashers. It can even survive in distilled water and disinfectants. Moreover, it reproduces quickly and is resistant to many antibiotics.
The new ready-to-use "Compact Dry" plates by R-Biopharm are an effective method for the identification of pseudomonads. The analysis is very safe and easy to perform: The sample is dropped directly into the culture medium plate. The dry nutrient medium immediately transforms into a gel, allowing cultivation of the specific bacteria. After an incubation period of 48 hours in an incubator, red colored colonies surrounded by a greenish-yellow halo show the presence of P. aeruginosa in the sample and can easily be counted with the naked eye.
To learn more about the Compact Dry PA, please visit www.r-biopharm.com or click on the "more info" button.
Tags:
Date Published: 30th June 2016
Source article link: View