1st August 2012 Content supplied by: Priorclave
Priorclave Launch Autoclave Performance Analyser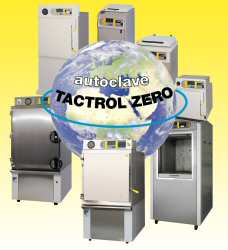 An advanced process review system - TACTROL ZERO - being rolled out across the entire range of autoclaves manufactured by Priorclave, adds further to the already excellent customer support provided by the company's Service and Technical Support team. The new system enables Priorclave to provide increased worldwide support ensuring that autoclave users maximise the performance of their steam sterilisers whatever and wherever the application and medium.
Priorclave, one of the UK's most successful autoclave manufacturers, produces a comprehensive range of standard sterilisers with up to 700L capacity as well as offering a bespoke design and build service. The core advantage of the new enhanced service means it is now better placed to provide immediate worldwide support.
Operational data collected by the TACTROL ZERO system can be fed directly to the UK's Service and Technical Support team, enabling them to view and analyse all operational parameters on-line. With data being collected directly at its manufacturing base Priorclave can now support autoclave users more promptly with guidance and programme settings in any country.
In the UK this added benefit comes on top of its current three-tier planned maintenance contracts, including Standard Programme incorporating Routine Preventative Maintenance visits to installed site, a Standard Plus option including parts and a Fully Inclusive package covering non routine call-outs. The whole ethos of the Priorclave aftercare service is to ensure longevity of the autoclave, maintain 'proper' performance, delivering efficient, reliable and repeatable sterilisation.
More details of the dedicated Priorclave Service can be found at: www.priorclave.co.uk/servIndex.aspx
Please note : Any products described on this page are for Research Use Only and not intended for clinical diagnostic procedures unless otherwise stated.
Tags:
Date Published: 1st August 2012
Source article link: View