12th October 2015 Content supplied by: Micronic BV
Polypropylene Sample Storage Tubes Shown to be Extractables-free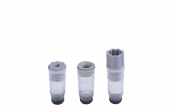 A new technical study from Micronic reports on tests carried out to demonstrate the absence of extractable organic contaminants in their polypropylene sample storage tubes for extractables-free sample storage.
The possibility of extractables being leached out of polypropylene tubes by aqueous or organic solvents is a major concern to many organisations looking to safeguard their valuable stored samples from contamination.
In the tests carried out, samples of Micronic polypropylene sample storage tubes were extracted with 10% absolute ethanol in ultrapure water and the extract was then analysed using highly sensitive GC-FID and GC-MS instrumentation. Results, included in the report, demonstrate a complete absence of organic contaminants in the samples extracted from the Micronic polypropylene sample storage tubes.
Manufactured from only the highest purity virgin polypropylene in a certified Class 7 Clean Room production facility, Micronic sample storage tubes are completely-free of extractible contaminants often found in lower grade storage tubes.  As a consequence the integrity of your stored samples, over even extended periods of time, is assured.
For a copy of this report please contact sophie.deneer@micronic.com.
For further information on polypropylene tubes for high integrity sample storage please visit www.micronic.com/product/140ml-tubes or contact Micronic Europe on +31-320-277070, Micronic America on +1-484-480-3372, Micronic Asia on +31-320-277099 or email sales@micronic.com.
Please note : Any products described on this page are for Research Use Only and not intended for clinical diagnostic procedures unless otherwise stated.
Date Published: 12th October 2015
Source article link: View
Related news