7th October 2014 Content supplied by: Mast Group
New and Improved DiscMaster™ 3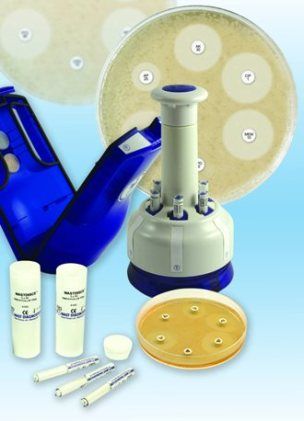 The DiscMaster™ 3 third-generation dispenser provides a reliable solution to dispensing antibiotic susceptibility testing (AST) discs in cartridges within the mastdiscs™ range and is designed to complement Mast's new state-of-the-art cartridge manufacturing facilities.
The DiscMaster™ 3 is available in a convenient 6-place format, with an easy-to-use single-handed operation, permitting smooth and rapid integration into routine laboratory workflows. Following a new ergonomic design, optimal performance is maintained within high-throughput laboratories.
AST discs are consistently placed on the agar surface, permitting accurate positioning with each dispensing cycle. Included is an automatic lock-off, which alerts users to the presence of empty cartridges, and an audible 'click', providing reassurance that cartridges are correctly seated in the dispenser.
Furthermore, the DiscMaster™ 3 has a fully adjustable skirt to alter height for accommodating variable depths of culture media and a seal-tight canister, improving rigidity. Protection against moisture is also provided with the addition of new silica gel capsules that feature improved colour reaction.
For more information please contact sales@mastgrp.com
Please note : Any products described on this page are for Research Use Only and not intended for clinical diagnostic procedures unless otherwise stated.
Tags:
Date Published: 7th October 2014
Source article link: View