2nd October 2018 Content supplied by: Molsid S.A.S
Molsid Launches New "In Vivo GPS"
Molsid S.A.S. have launched new fluorogenic reagents for the rapid detection and accurate localisation of selected enzyme activities in live cells.
Their unique property is the release of a stable precipitating fluorochrome; paving the way for significant technological improvements in areas such as medical diagnostics, quality control in the food industry, and industrial microbe development for the benefit of base chemical and pharmaceutical production as well as environmental decontamination.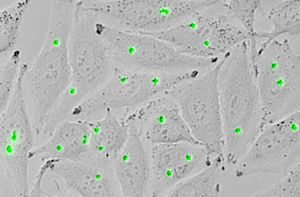 Detection of Leucine aminopeptidase activity within HeLa cells with Molsid probes.
Breakthrough innovation
The direct or indirect detection of an enzyme is at the heart of many Life Science processes. Since the 1970s, chemists and biologists have been seeking to develop synthetic fluorescent substrates that can unambiguously locate enzyme activities in a live cell. Up to date, the diffusion of the fluorescent signal in the sample remains the main defect of commercially available pro-fluorescent, enzyme-responsive probes, explaining their low sensitivity of detection.
A unique and patented chemical design allows Molsid to manufacture enzyme substrates with the following key features:
Initial substrates are non-fluorescent, soluble molecules showing good cell permeability and long-term stability
The product of probe conversion by the target enzyme is a bright, extremely photostable and crystalline fluorophore ensuring exceptional detection sensitivity
Full signal retention at the site of enzymatic activity
Sharp response
Easy-to-use protocol without the need for secondary reagents
End-to-end compatibility under physiological conditions
"Our precipitating probes make visible what standard probes do not allow to visualize. They provide clear and reliable results, thanks to a retention of the fluorescent signal at the seat of the targeted enzyme activity " explains Jens Hasserodt, Professor of Chemistry at ENS Lyon, inventor of the technology and co-founder of the company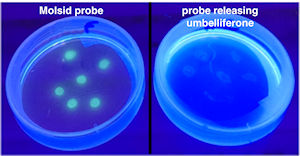 Demonstration of the signal retention with a Molsid probe by comparison to enzyme-containing cell extract spotted on 2 probe-containing agars: Molsid probe (left), Standard probe (right).
Bring new technical solutions to the market
The new range of fluorescent substrates, specific for several classes of hydrolases (glycosidases, peptidases and esterases/lipases) offers new solutions for researchers and engineers to set new standards for many high-value technologies: rapid microbiological analysis, detection of antibiotic resistance, diagnosis of biomarkers, medical imaging and enzyme engineering within host microbes for food and green industries.
To learn more about Molsid S.A.S. and discover all products and services, visit www.molsid.com
Please note : Any products described on this page are for Research Use Only and not intended for clinical diagnostic procedures unless otherwise stated.
Tags:
Date Published: 2nd October 2018
Source article link: View