1st October 2013 Content supplied by: Sartorius AG
Microsart® @media and @filters: Maximum Safety Microbial Limit Testing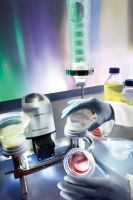 Sartorius Stedim Biotech(SSB), is introducing Microsart @media to complement Microsart @vance, a product line for microbiological quality control in these sectors.
Microsart @media are agar media dishes for Microbial Limits Testing according to the USP (Chapter ) and EP (Chapter 2.6.12). They are pre-filled with various agar media types, such as Tryptic Soy Agar or R2A Agar, sterile packaged and ready-to-use in combination with Microsart @filter units. Moreover, the Microsart @media features an innovative patented lid that allows touch-free transfer of the filter membrane onto the media without using any tweezers. In addition, easy access to the colonies after incubation is given due to the liftable lid. The intelligent design and ease of use eliminates almost all handling mistakes.
The combination of Microsart @media and Microsart @filters introduce a brand-new agar and membrane transfer concept. Thanks to their concerted development the matching Microsart @media active lid fits perfectly onto the Microsart @filter base. The few steps required between sampling and incubation save time and labor, while delivering more reliable results. The touch-free membrane transfer eliminates membrane manipulation and handling, thereby minimizing a major source of secondary contamination.
Tags:
Date Published: 1st October 2013
Source article link: View