13th January 2014 Content supplied by:
Lower Salmonella Cost per Test with AFNOR Approved Pooling Protocol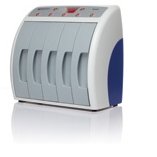 The Pathatrix® Auto Instrument from Life Technologies has received AFNOR certification for the 'Pathatrix® Auto salmonella spp. Up to 10-Pooling Protocol'. The categories covered by the validation are meat and dairy products, including raw beef, cooked delicatessens, milk powders and infant formula with probiotics.
After enrichment, 10 portions of enriched meat or dairy samples are pooled over the Pathatrix® Auto system followed by detection on selective agar plates or by MicroSEQ® salmonella real-time PCR detection. Validation data on both workflows have proven equivalent with the reference method ISO 6579 (2002).
Benefits for your lab include:
• more testing at lower costs
• faster release of your meat and dairy products
• less false positives due to removal of matrix effects
Tags:
Date Published: 13th January 2014