It's Blue! It's New! Sampling Products for the Food Industry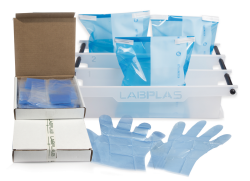 Visit us at the IAFP booth 1226 and discover all of our sampling solutions!
Labplas will be introducing at the IAFP 2016 a new line of products specifically intended for sample collection in the food industry. In food factories monitoring of food samples and the environment requires sterile equipment and must be done meticulously to avoid contamination of the sample and also possible introduction of foreign matter. To help achieve this therefore the Twirl'Blue sterile bags are highly visible in order to conform to due diligence and avoid possible product recalls.
Twirl'Blue Sterile Sampling Bags
Blue color tear-off for increased visibility
Distinct color to avoid possible cross-contaminations
Clear visual recognition so can be used to segregate samples from different areas within the factory environment
Accessories to the line!
Sterile Blue Gloves
Made out of polyethylene
Gamma sterilized
Packaging: 1 box of 50 pairs of gloves (wrapped in pairs)
Detectable Retractable Blue Clip Pens
Ideal for use in ambient working temperatures and a clean environment, or where a one piece pen is stipulated.
Made with Polymer FDA approved material
Metal Detectable & X-Ray Visible
Triangular cross section for a comfy yet sturdy grip
Tags:
Date Published: 18th July 2016
Source article link: Labplas Inc.
Related news