25th September 2012 Content supplied by:
Introducing the BAX® System Real-Time PCR Assay for Salmonella
Hygiena has acquired DuPont Diagnostics, the global food safety diagnostics business of DuPont. Including the BAX® System, RiboPrinter® System, Lateral Flow System, StatMedia™ and Dehydrated Culture Media. Visit
www.hygiena.com/bax.html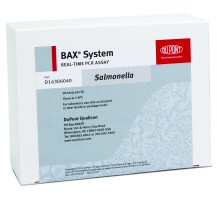 The new DuPont™ BAX® System real-time PCR assay for Salmonella enables food companies to make faster product release decisions, saving inventory costs and extending product shelf life.
Validated on a variety of foods, including ground beef, chicken, lettuce, cream cheese, dry pet food and environmental samples, this real-time PCR assay is fast, accurate and easy to use. It reduces processing time to about an hour and provides clear yes-or-no results that eliminate the need for expert interpretation.
The DuPont™ BAX® System real-time PCR assay for Salmonella represents the latest innovation in testing applications from DuPont Nutrition & Health, a business dedicated to delivering a wide range of sustainable, bio-based ingredients and advanced microbial diagnostic solutions to the food industry.
Tags:
Date Published: 25th September 2012