10th April 2018 Content supplied by: Thermo Fisher Scientific (Clinical Applications)
FDA-cleared Microbroth Dilution Plates for Delafloxacin and Meropenem/Vaborbactam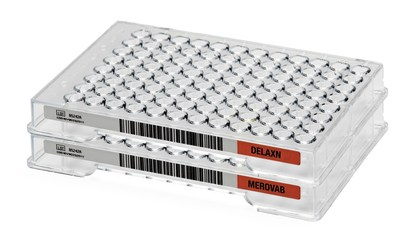 The antimicrobial delafloxacin, and the combination of meropenem and vaborbactam are now available on FDA-cleared microbroth dilution susceptibility plates, expanding antimicrobial susceptibility testing (AST) options for microbiology laboratories, and providing the results clinicians need to make treatment decisions. Delafloxacin is available for testing select fastidious and non-fastidious Gram positive and non-fastidious Gram negative organisms, including MRSA, MSSA and E. coli, while meropenem/vaborbactam is available for select Gram negative, non-fastidious isolates.
The Thermo Scientific Sensititre ID/AST System is the first to offer delafloxacin and meropenem/vaborbactam on IVD-labeled, microbroth dilution susceptibility plates. The antimicrobials are currently available in the U.S. on Sensititre custom plates, and will be available soon on new standard formats. Delafloxacin will be available on a single-drug, multi-isolate Sensititre plate (Part No. DELAXN), while meropenem/vaborbactam will be available along with meropenem on a dual-drug, multi-isolate Sensititre plate (Part No. MEROVAB), enabling laboratories to simplify and expedite the process of adding new antimicrobials to their formulary.
According to Bernd Hofmann, vice president of marketing, Thermo Fisher Scientific microbiology, "As pharmaceutical companies introduce new antibiotics, it is critical for microbiology labs to have the means to test susceptibility of these new drugs against critical patient isolates. By working closely with pharmaceutical companies, we can quickly provide a robust testing option to microbiologists, so clinicians can make informed treatment decisions and utilize these drugs as part of their formulary."
The Sensititre System utilizes true MIC results, which are essential to understanding antimicrobial resistance, and provide greater sensitivity for better resistance tracking. True MIC results are the preferred measure of antibacterial effect, which can assist with therapeutic choices, and promote overall better patient care.
BAXDELA™ (delfloxacin, Melinta Therapeutics) is indicated in adults for the treatment of acute bacterial skin and skin structure infections (ABSSSI) caused by designated susceptible bacteria. It is an anionic fluoroquinolone antibiotic, a class currently used in one out of three hospital-treated infections. Baxdela has demonstrated in-vitro and clinical activity against Gram positive and Gram negative pathogens, including activity against MRSA (methicillin-resistant Staphylococcus aureus), a major cause of hospital-treated skin infections.
VABOMERE™ (meropenem and vaborbactam, The Medicines Company) is a combination of meropenem, a penem antibacterial, and vaborbactam, a beta-lactamase inhibitor, indicated for the treatment of patients 18 years and older with complicated urinary tract infections (cUTI), including pyelonephritis, caused by designated susceptible Enterobacteriaceae: Escherichia coli, Klebsiella pneumoniae and Enterobacter cloacae species complex.
More information on the Thermo Scientific Sensititre System can be found by visiting www.thermofisher.com/AST or by contacting microbiology@thermofisher.com.
Please note : Any products described on this page are for Research Use Only and not intended for clinical diagnostic procedures unless otherwise stated.
Tags:
Date Published: 10th April 2018
Source article link: View