7th June 2016 Content supplied by: Beckman Coulter International S.A.
Excellent Results from Multi-Centre Evaluation of DxN VERIS HIV-1 Assay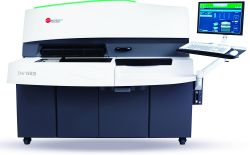 Beckman Coulter has highlighted the findings of a poster, presented at ECCMID, Amsterdam, 2016, regarding the analytical performance of the company's fully automated DxN VERIS Molecular Diagnostics System and VERIS HIV-1 Assay.
The European multi-centre study was undertaken at 10 centres in Germany, Spain, Italy, France and the UK. All sites followed the same protocol provided by Beckman Coulter. Method comparisons were made between the Beckman DxN VERIS HIV-1 assay, and the Roche COBAS AmpliPrep/COBAS TaqMan HIV-1 v2.0 assay, the Abbott RealTime HIV-1 assay and the Siemens kPCR HIV-1 assay and were determined on 402, 169 and 202 samples respectively. Patient monitoring analysis was also performed on archived samples at a number of sites.
Excellent rates of precision and analytical specificity (99.2%) were noted. Linearity was performed on HIV-1 patient samples in 9 sites with an excellent range of 0.93 log IU/ml – 7.37 log IU/ml, with an average of R² of 0.99. The linearity on 7 subtypes and 2 groups performed in 4 sites was also reported as "very good".
The poster concluded that the "Beckman Coulter DxN VERIS HIV-1 assay showed good analytical performances at each of the evaluation sites. The consistency of the results among the different sites make DxN VERIS HIV-1 assay a helpful and reliable tool for HIV-1 RNA viral load determination."
With LEAN principles at its core, the DxN VERIS Molecular Diagnostics System combines sample prep, nucleic acid extraction, reaction setup, real-time PCR amplification, detection and results interpretation in one instrument, streamlining workflow for improved productivity. By reducing manual intervention, and automating the steps from sample loading to reporting of results, the DxN VERIS system has the potential to revolutionise laboratory workflows and reduce time to results. There is no lengthy set-up – all consumables/reagents are stored and refrigerated on-board: HIV-1, HCV, HBV, and CMV viral load assays* are currently available; these will be followed by assays for STDs/women's health and hospital acquired infections.
For more information about DxN VERIS or for copies of Beckman Coulter's Evidence Pack containing this poster (A European Multicentre Study on the Analytical Performance of the VERIS HIV-1 Assay) please use the Request Information form below.
Please note : Any products described on this page are for Research Use Only and not intended for clinical diagnostic procedures unless otherwise stated.
Tags:
Date Published: 7th June 2016
Source article link: View